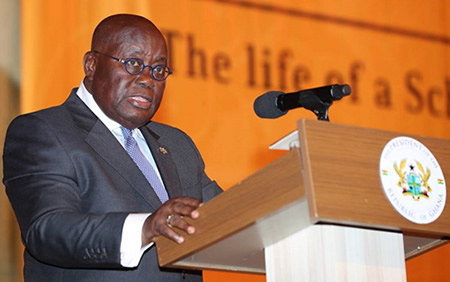 President Nana Addo Dankwa Akufo-Addo on Wednesday called on tertiary institutions to prepare for increased student admission, resulting from the implementation of the Free Senior High School Policy.
The dramatic increase in students who would be seeking admission in the next two years posed an immediate challenge, and "we cannot be caught off guard".
He was speaking at the investiture of Mrs. Mary Chinery-Hesse, the new Chancellor of University of Ghana, Legon.
President Akufo-Addo said because the fee-free policy was going to be a permanent feature in the nation's educational architecture, tertiary institutions ought to " prepare for tomorrow"
"The Free Senior High School policy will be a permanent feature of our educational architecture. We cannot be caught off guard, and, as the saying goes, 'the best preparation for tomorrow is doing your best today'."
The President commended the authorities of the University of Ghana for the excellent choice of Mrs. Chinery-Hesse, "one who is also, happily, a firm believer in academic freedom".
As the first female Chancellor of any Ghanaian University, Mrs. Chinery-Hesse blazed a trail for other women to follow, and, "moreover, I am sure the University will definitely feel the added benefit of that special quality that a woman can bring to leadership," he said.
She takes over from the former Secretary General of the United Nations, Mr. Kofi Annan.
He noted that the university could not have picked a worthier successor and thanked the former Chancellor for his invaluable service to the nation.
"It is not every day that one picks up the mantle of leadership from such as Mr. Kofi Annan so, Madam Chancellor, I am sure that you know that you have your work cut out for you."
President Akufo-Addo said the wealth of experience of Mrs. Chinery-Hesse, who served among others, as an advisor to the second President of Fourth Republic, President John Agyekum Kufuor, would put her in a good stead to spur the institution to greater heights.
He gave the assurance of Government's support for the University, and all other universities in the country.
"It is my expectation and hope that Legon will continue to produce graduates, who are moulded to take on the opportunities and possibilities for higher achievement, through innovation and creativity, in today's science and technology-led, knowledge-driven global economy, and who will, thereby, help generate prosperity for the mass of our people in our time," he added.
Source: GNA
Latest posts by Classic Ghana
(see all)