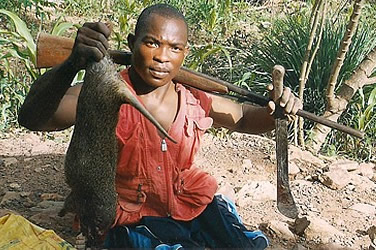 The public, especially hunting enthusiasts, have been reminded that there is currently a ban on hunting for wild animals in the country.
Those who violate the ban, when arrested, would be liable to a fine, imprisonment or both.
Mr Joseph Yaw Oppong, Public Relations Manager, Wild Life Division of the Forestry Commission, told the Ghana News Agency in an interview, that the ban on hunting which begun on August 1 2018, would end on December 2 2018.
He said the ban, also known as the "close season", was in conformity with the Wild Life Conservation Regulation 685 of 1975.
Mr Oppong said with the exception of the grass cutter which could be hunted with license issued by the Wild Life   Division of the Forestry Commission, "capturing or destruction of any wild animal is absolutely prohibited during the period."
He also reminded hunters that by law, there were animals that could not be hunted at all, even during the hunting season.
"Elephants, lions, leopards, grey parrots and hippopotami are some examples" Mr. Oppong said
He said as a scavenger for example, the vulture basically kept the environment clean of filth such as rotten carcasses and explained that if for any reason, vulture populations were to dwindle, a key effect would be environmental degradation.
He said animals like the elephant took several years to grow, and a much longer time than other animals to reproduce, adding that allowing such animals to be recklessly hunted down could easily lead to their extinction.
Mr Oppong appealed to the public, especially hunters and people living close to wildlife, to help with the implementation of wild-life conservation measures, because as they served the interest of the animals and humans as well.
"The bat for example which is a protected species, is a key means of controlling mosquito populations," he said.
Mr. Oppong said allowing the bat to be recklessly hunted down, was thus another way of increasing mosquito bites, through which malaria was transmitted and said wild animals, apart from expressing the beauty of nature, also served important purposes which immensely benefited humans.
Mr Oppong observed that it would be sad if the generation hunted down the current wild life species into extinction, leaving future generations with only pictures of animals that once roamed the forests of the country.
He urged stakeholders to support the wildlife division to preserve the various wild animal species.
Source: GNA
Latest posts by Classic Ghana
(see all)