The Queen and Duchess of Sussex are in Cheshire for their first royal engagement together.
Her Majesty and newly-married Meghan officially opened the Mersey Gateway Bridge and Chester's Storyhouse Theatre.
They then attended a lunch at Chester Town Hall as guests of the city council.
It is the first time the duchess has attended an event with the Queen without her husband Prince Harry.
Thousands of people were already waiting at the venues hours before the royal pair arrived, with stalls set up on the streets selling flags and souvenirs.
The Queen, wearing green in honour of Grenfell Tower fire victims on the first anniversary of the tragedy, and duchess were greeted by hundreds of cheering schoolchildren as they stepped off the royal train at Runcorn station.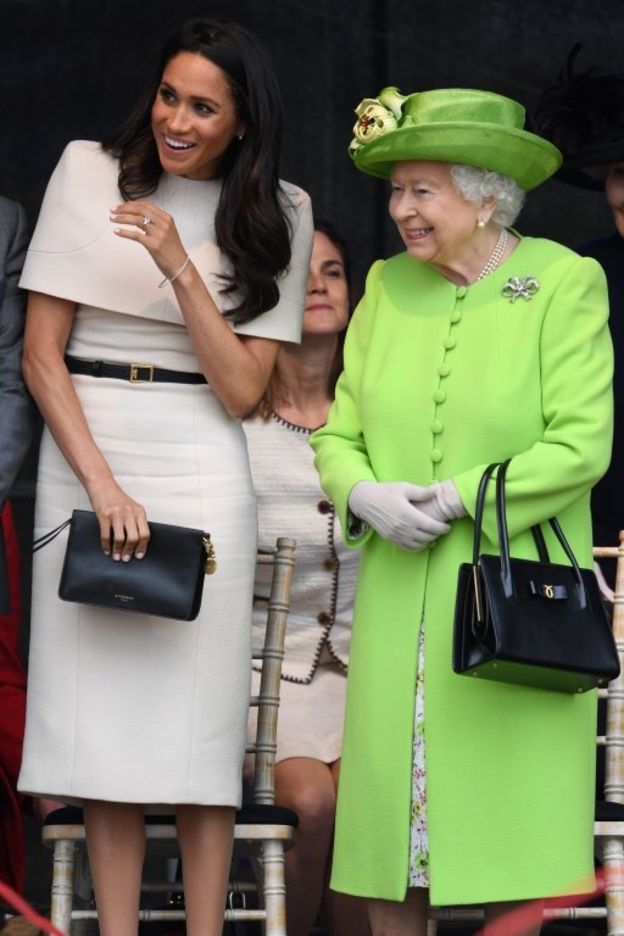 Lord-Lieutenant of Cheshire David Briggs MBE welcomed Meghan as she left the train, saying: "Welcome to Cheshire. I understand this is your first visit to northern England."
The 36-year-old duchess, wearing a cream outfit by Givenchy, replied: "That's right yes."
Abigail Grimes, a pupil at Runcorn's Beechwood Primary School, was chosen to present the duchess with a posy of flowers as it was the youngster's fifth birthday.
The Queen, wearing a Stewart Parvin outfit and matching hat by Rachel Trevor Morgan, was given flowers by Jack Jackson, 10, from St Michael's Catholic Primary School in Widnes.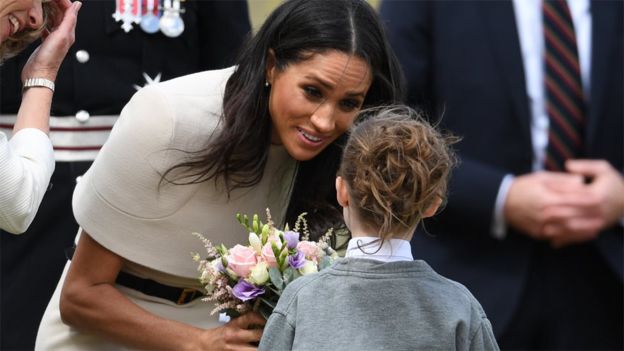 Grange Hill and Brookside creator Phil Redmond and wife Alexis, the High Sheriff of Cheshire, were among those gathered to greet the royals.
Mr Redmond joked he should have asked the US-born former actress Meghan if she wanted a part in his soap Hollyoaks.
"I didn't ask her, but there's still lunch yet. She'll have to go through the audition process like everybody else."
Mrs Redmond said: "It's fantastic to have them here and it's a big day for Cheshire."
During the visit to the bridge the royals met architects, planners and community representatives and watched a performance from local schoolchildren before Her Majesty unveiled a plaque to mark the opening.
The bridge between Runcorn and Widnes was opened in October and has been subject of fierce debate over its tolls.
The Queen and the duchess then headed to Chester where they had a tour of the Storyhouse Theatre.
The £37m theatre opened in May 2017 following a two-and-a-half-year project to transform the city's former Odeon cinema.
They saw performances from a theatre company for people in recovery from addiction.
Alison Green, 49, who is originally from the UK but now lives in Virginia, USA, said: "I landed yesterday to see mum and dad and decided to come down today.
"I'm mainly looking forward to seeing Meghan as I want to make my friends at home jealous!"
Sarah Howlett, from Chester, was delighted to get the opportunity to speak to the duchess.
"I said 'welcome to Chester' and she said 'thank you the weather is beautiful'.
"She was very natural, very beautiful and very friendly. It felt like she wanted to give all her time to people."
Lisa Sanders, who is from Great Sutton, was with her daughter Sarah to see the royals and got to shake hands with the new duchess who told them Chester was a "lovely place".
"She was fantastic, so natural.
"I said hello and I couldn't believe she shook hands with us."
The Queen and Duchess of Sussex fell silent at noon to join in a national minute's silence for Grenfell Tower fire anniversary.
Source: BBC
Latest posts by Classic Ghana
(see all)