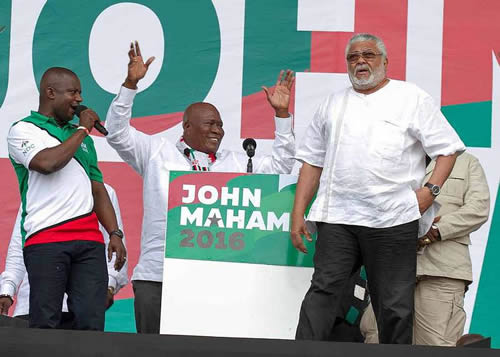 Mr Albert Maladam, Constituency National Democratic Congress Chairman at the Amenfi West has stated that if Mr Alban Kingsford Sumana Bagbin is elected as Flagbearer of the Party, Rawlings would be part of their campaign team.
"It is no secret that President Rawlings is not on good terms with former President Mahama. If we will all recall, we lost the 2016 election massively because most of our supporters in our stronghold, Volta, refused to vote.
Mr Maladam stated this at a party executive meeting at Asankragua in the Western Region.
"And after the election, we all heard it when John Peter Amewu, the current Lands Minister, revealed in an interview that the low turnout in Volta was partly due to invaluable contributions by President Rawlings.
"The ball is therefore in our court now, we elect Mahama and suffer another counter campaign from our Founder that can lead to another massive defeat or elect someone else and bring Rawlings on board," Maladam said.
At the same meeting that took place at Asankragua, the Youth Organiser of DC Primary "B" of Amenfi West, Elvis Dauda, pointed out that if Mr Bagbin was elected Flagbearer, President Rawlings would automatically come on board the 2020 campaign.
"This will be a good move for us because, not only will our supporters who did not vote in the last election see that our father has forgiven us and returned home, but even floating voters will see that our Founder has broken ranks with President Akufo-Addo."
Mr Dauda said he would not put anything into the head of anybody, but urged all those gathered at the meeting to cogitate about the choices before them and make the right one when the time was due.
He added that the Akufo-Addo government had lost a lot of goodwill that it enjoyed from the beginning of the administration because of corruption allegations, hardships among others and would therefore be rejected in 2020
Mr. Albert Maladam, who was flanked by the Youth and Women Organisers, after the meeting, sang Mr Bagbin's campaign song to the admiration of the gathering.
Source: GNA
Latest posts by Classic Ghana
(see all)