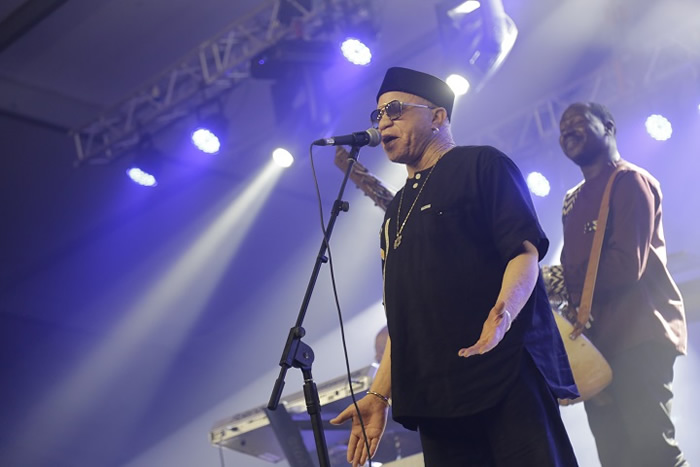 IF there is any word to describe Malian music legend, Salif Keita, at the Stanbic Jazz Festival last Saturday, March 2, at the Fantasy Dome, it will be 'spectacular'. Was it because he brought his 40-year career to an end?
Dressed in a black ensemble, Salif Keita mounted the stage at 10pm after Cameroonian Grammy award-winning artiste, Richard Bona, had thrilled the crowd to tunes like Konda Djanea, Sweet Mary, Messanga  and Laka Mba.
With his two female backup singers, Salif Keita wasted no time in giving the audience the best of his songs. Performing songs like M'Bemba, Kuma, Lony, Tekere, Folon among others, he engaged the audience with his dance moves and invited them to join in.
Not satisfied with how the crowd was enjoying his songs, Salif Keita went on his knees telling the patrons they could not sit when African music is played.
"When African music is played we dance, we don't sit so please get up and dance," he challenged his audience.
Salif had his real moment when he played his last song Africa before leaving the stage. The crowd went wild, danced and sang along with him with others joining him on stage.
One significant aspect of the performance was the enthusiasm of his team of instrumentalists who took turns to treat their audience to their skills; from the percussionist to the guitarist, drummer and the special twinkling string, the ngoni harp.
Then came the main act of the night, the English pop-reggae group UB40. The crowd was on its feet the moment the band came on stage.
Performing songs including Cherry Oh Baby, Red Red Wine, Groovin, Falling In Love With You, Come Back Darling, it was as if patrons were listening to the CD. The sound was so clear and powerful.
Their energy on stage after almost an hour goes to testify that they put in a lot of rehearsals before they mounted any stage. The crowd didn't want them to leave even though they had performed for more than an hour.
The show delayed for an hour before it was kicked off by guitarist Checheku, who gave the house some great Afro jazz renditions.
South African diva, Wanda Boloyi, also came through to deliver an amazing performance to which the applause was loud.
The fifth edition of the Stanbic Jazz Festival was great. Security was spot on and for the first time the air conditioners at the Fantasy Dome did not fail.
The set and lighting was superb as were the sounds from the stage immaculately controlled by Master of Ceremonies, Nhyira Addo of Multimedia, himself a jazz enthusiast.
Source: Graphic Showbiz
Latest posts by Classic Ghana
(see all)