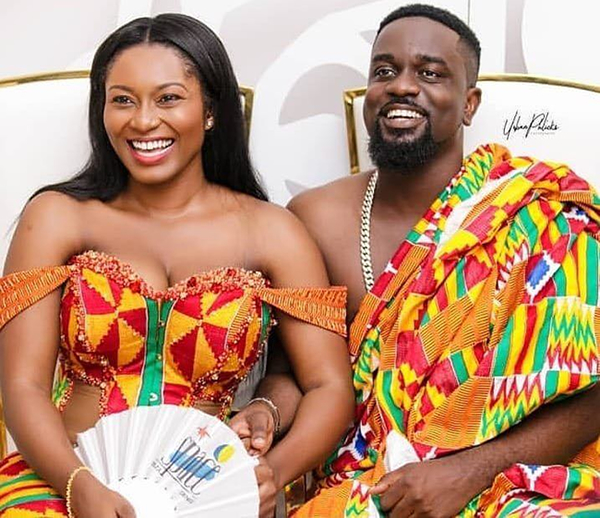 The definitive defintion of love, has become a difficult subject matter, but the love stories of Romeo and Juliet has been eulogised as the epitome of true love and Micheal Owusu Addo also known as "Sarkodie" and Tracy Owusu Addo, have certainly written their love scripts by finally tying the knot after their 13-year relationship span, with glamorous a wedding ceremony over the past few days.
Sarkodie and Tracy's love clearly demonstrates how love transcends beyond financial status and also beyond modern relationship euphemisms that has thrown out the essence and concept of what love should be like.
It's a clear true love, that has persisted between Sarkodie and Tracy, even in difficult circumstances, which would have normally fell apart in modern relationships, especially in Ghana, considering how the scope of the Ghanaian economy has affected what goes into a typical Ghanaian relationship.
What informed Tracy's thoughts to keep and believe in this relationship can't be measured, but one thing that is certain is that, she was ready to face the adventure of falling in love with her massive support for Sarkodie, which proved crucial to his rise as a unique rap gem.
Behind every successful man there is a woman, a common household proverb clearly demonstrates, how Tracy has worked hard in pushing Sarkodie within the top ranks of Ghanaian music, which was certainly roller coaster ride considering his style of music.
Juxtaposing Sarkodie and Tracy's story to modern trends in Ghanaian relationship, maligns with the monetary benefits which constitute the primary requirement in relationships, but not necessarily admitting that, these assertions transcends in all relationship.
It's a natural phenomenon for a man to take care of his woman and indeed the man would certainly feel proud of taking care of his woman, but circumstances doesn't allow for him to undertake his duties.
It will be of great essence for the woman to believe and stay by him, in moments of tribulation as it serves a great motivation for many men who often revisit their past when it comes the critical moment when they looking for life partner.
Sarkodie and Tracy's amazing love story has further proven beyond reasonable doubt that, love is not all about the monetary gains or stature of the parties involved but a belief that, true love has the power to conquer all tribulations and must serve as an inspiration to most young people who are yet to undergo the adventure of love which doesn't always have an happy ending.
The spiritual leader of Tibet, Dalai Lama, once said "Love and compassion are necessities, not luxuries. Without them, humanity cannot survive," certainly stresses how human strive every day to find the best available love partners that share the interest to help the survive in their respective lifetime and not extravaganza mission.
By Simon Asare
Source: GNA
Latest posts by Classic Ghana
(see all)