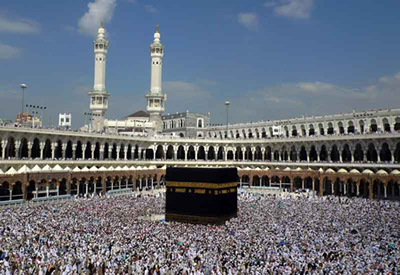 The National Hajj Committee in collaboration with the government would fly some 55 security personnel from Ghana to Jedda, Saudi Arabia to ensure the safety and security of this year's pilgrims Hajj.
The measure is the first of its kind by a government to send accompanying security personnel to Saudi Arabia to handle the security issues of all Ghanaian pilgrims following the challenges and stress the pilgrims go through over the years in Mecca.
Dr Shaibu Gariba, the Assistant Commissioner of Police (ACP) in Charge of Operations, disclosed this in Tamale at a briefing of the contingent that would be providing security to Ghanaian pilgrims during this year's Hajj and assured that adequate measures were in place by the National Hajj Committee to address the challenges that marred previous Hajj pilgrimages.
"I want to announce that, for the first time there will be security personnel flying from Ghana to Saudi Arabia to ensure the security of our pilgrims" and that an advance team had arrived in Saudi to put things in place.
Dr Gariba advised the security officers to be disciplined and professional in their line of duty in Saudi Arabia as they were not going to take part in the pilgrimage, but to take care of security issues of Ghanaian pilgrims.
He said barring any hitches, the first batch of 367 out of 2,167 Muslim Pilgrims from northern, Upper East and Upper West regions would be flown direct from the Tamale International Airport to Jedda on Sunday, August 5, 2018.
The pilgrims from the three regions according to him would be flown in seven batches from Sunday, August 05, 2018 to Wednesday, August 8, 2018, while 3,369 Muslim Pilgrims would also be flown from the Kotoka International Airport in Accra to Jedda in 11 batches.
A total of 5 536 pilgrims were expected to be flown from Ghana to Jeda this year by August 14, 2018.
Mr William Andoh, a Chief Superintendent at the Ghana Immigration Service (GIS), said stringent measures had been put in place at the various borders to ensure that ladies who were not up to the required age group did not smuggle through to the Hajj.
He expressed concern about persons suspected to be foreigners using Ghanaian passports to travel to Mecca last year and assured that due diligence would be done this year to apprehend suspected cases for investigation.
Mr Salifu Saeed the Northern Regional Minister said his outfit had put measures in place for effective security arrangements to ensure the safety of the pilgrims.
The arrangement, he said, was to ensure that unscrupulous individuals and miscreants did not take advantage of the pilgrims while on their journey to fulfil the important religious assignment and assured the pilgrims that government was doing everything possible for a successful Hajj.
Source: GNA
Latest posts by Classic Ghana
(see all)