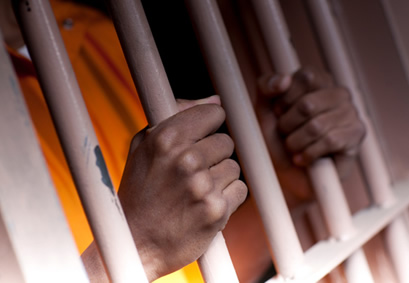 At the main gate of the Nsawam Medium Prisons, armed men stand in the hot sun keeping watch over its massive iron gates.
A tall wall obviously built to keep the convicts form interacting with society, looks unscalable and impenetrable and bruised by rain and sunshine over the years
Inside these massive walls are cells that hold about 3,500 prisoners, far and above its original holding capacity of 800 thus making it an over-populated and an over- crowded facility which still receives convicts from Ghana's courts.
The Nsawam Prisons, which notoriously represents the state of Ghana's prisons, reels under a lot of pressures including poor medical services, poor feeding, and poor air quality.
It was built to keep dangerous felons from society but now it is also a holding point for many newly sentenced prisoners who are occasionally or routinely transferred to other prisons.
Some inmates, as a result of stress and frustration, develop mental ill-health and in the heat and still of the night, cell champions wade through the human bodies to seek pleasure as they abuse the weak and the lonely.
The stench that greet the nostrils is terrible and tells a perfect story of poor disposal of human waste, abandonment and poor personal hygiene.
Prominent among groups and programmes which are trying to decongest the prisons and give prisoners and those on remand a sense of self-worth is the JUSTICE FOR ALL programme, an initiative of the Judicial Service of Ghana, which unfortunately and ironically works with a sentencing policy that has largely contributed to the over-crowding in local prisons.
The programme has undoubtedly produced impressive results; freeing remanded people whose trial would never take place and those who can never afford the expensive court fees and services of lawyers to seek freedom.
The presence of the programme's officials bring hope and a sort of relief to many including those who would never breath freedom.
Excitingly, 'Justice for all' programme has successfully decongested the prison facility by over 70 per cent of the people who are not supposed to be in the facility.
As a nation, we must reform our outdated sentencing policy, which will put almost every offender behind bars and embrace other forms of sanctions like community work for minor crimes. We must also help nourish and nurture the ideals of freedom, human rights and human dignity in all our actions so that the weak and the poor would also be protected by society.
Dr Martin Luther King junior, the celebrated slain American civil rights leader, once said, "Injustice anywhere is a threat to justice everywhere," hence 'Justice for all' brings light to the average prisoner who may not have the financial footstool to employ the services of a lawyer.
By Priscilla Yanney
Source: GNA
Latest posts by Classic Ghana
(see all)