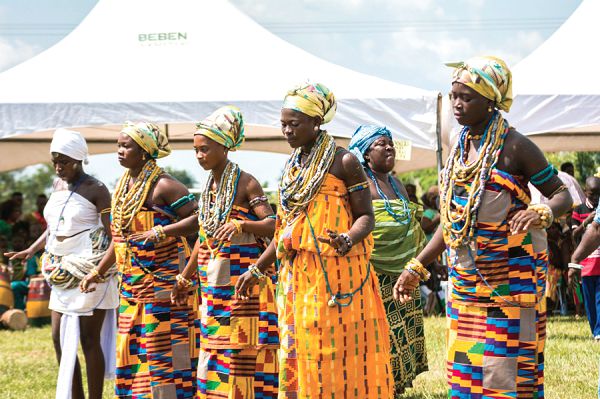 The chiefs and people of Bonwire, renowned for its thriving kente industry, have advocated the setting up of a National Kente Board.
The initiative, they argued, had become necessary to chart the course for effective management and sustainable development of the kente industry.


Kente, now Ghana's national cloth, is one indigenous handicraft that has won worldwide recognition.

The art of Kente weaving has its origin from the 11th Century of West African weaving traditions.


The aesthetic beauty of the nation's iconic cloth, which has about 50 different varieties, is affected by the colour symbolism.


Nana Bobie Ansah, Chief of Bonwire in the Ejisu Municipality of the Ashanti Region, who was addressing a sod-cutting ceremony at Bonwire for work to commence on a proposed Kente Museum, cited how the iconic cloth had helped to market Ghana to the outside world.


The cloth, he noted, had been the pride of the country since independence, therefore, the decision to construct a museum was a step in the right direction.


He lauded the government for the initiative, stating that the move would further promote tourism to bring economic benefits to the people.


The proposed Bonwire Kente Museum is being constructed under the Ghana Tourism Development Project as part of efforts to whip up the nation's tourism drive.


Alhaji Dr. Mahamudu Bawumia, Ghana's Vice-President, who was the Guest of Honour, in a brief message, said the government believed in the potential of the Kente cloth, to change the face of the textiles industry.


Consequently, the necessary investment was being made to harness those potentials.


The proposed museum, he stressed, was expected to attract more visitors to the country, thereby improving revenue generation, job opportunities and wealth creation.


Source: GNA
Latest posts by Classic Ghana
(see all)