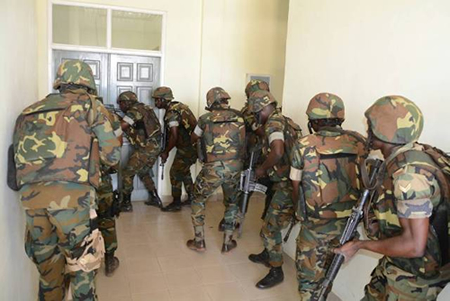 Mr Dominic Nitiwul, the Minister for Defence, has called on the Ghana Armed Forces (GAF) to work jointly with the Police to arrest the rising incidence of 'Land Guardism' in the country.
He said the fear and panic created by these Land guards and the unjust and unlawful ways of depriving citizens of their property needed to be curtailed.
"I do not have to recount how innocent citizens have either been maimed or brutally murdered by some of these Land guards.
"I charge you to help rid our society of these miscreants so that law abiding citizens can live in peace", he said.
The Defence Minister made the call at the GAF Inter-Services shooting competition codenamed "Ex Fireblast" held at the Yaohima Gallery Range in Sunyani.
The aim of the competition was to mainly enable the exchange of ideas, foster cooperation and promote healthy competition and espirit de corps within the ranks of the Armed Forces.
The three day event saw participating teams drawn from the Army, Navy and Air Force keenly competing in the M16 (Standard), M16 (Carbine), Pistol and Falling practices.
He said government was committed to solving the challenges facing personnel of the Armed Forces, adding that the Ministry of Finance approved a $100m Housing policy by the Ministry of Defence into the 2019 budget.
He urged soldiers to continuously be committed to duty to create a safe economic environment for the country to progress for the wellbeing and prosperity of all Ghanaians.
Mr Nitiwul therefore admonished the Soldiers that in the discharge of their duties and responsibilities, they should ensure that they always operate within the remit of their engagement.
He added that this will remove the cases of backlash that the military as well as other security agencies receive as a result of acts of indiscretion by a few deviants among them.
In a fitting matchup to climax the competition, Air Force Team B beat Army Team A in the finals of the Fallen Plate Practice with Officials having to resort video replay to confirm the winner.
Ghana Army emerged overall winners with a total of 2460 pts. Ghana Air Force came in second with 2434 pts and a total of 2093 pts was accumulated by Ghana Navy which came in third.
Cpl Ayensu Bentil (Air Force) and L/Cpl Adjei Eugenia (Army) were adjudged the Best Overall and Individual Male and Female respectively.
In attendance at the completion were Dep Reg Min for Brong Ahafo Region, Chief of Air Staff, Air Vice Marshal Maxwell Mantsebi-Tei Nagai, and Chief of Naval Staff, Rear Admiral Peter Kofi Faidoo amongst others.
Source: GNA
Latest posts by Classic Ghana
(see all)