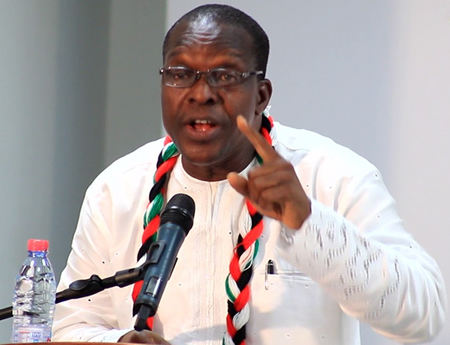 Some Constituency Executives of the Tema East branch of the opposition National Democratic Congress (NDC) have touted Second Deputy Speaker of Parliament, Mr Alban Kingsford Sumana Bagbin, as the party's banner of hope for 2020.
At a News conference held in Accra, the executives, led by Stephen Ashitey Adjei, alias Moshake, celebrated Bagbin as the true choice of the people and urged other delegates who support him secretly, to boldly come out and declare their stance.
"Even our opponents in the NPP acknowledge that our best asset for 2020 is Mr Bagbin. Within our party too, the majority of delegates acknowledge this. However, there are many pro-Bagbin delegates and executives who have kept their allegiance private and we want to assure them that if they wish to come out like some of us have done, they will have our support," Moshake said.
Moshake who was flanked by Mr. Philip Yankey, another Tema East executive of the party and Mr Evans Amarh, Deputy Constituency organizer, said their news conference was aimed at serving as a reminder to all Bagbin fans and admirers that the Nadowli-Kaleo MP's flagbearership campaign was on track.
"I will urge every executive who is given free money to oppose Mr Bagbin's candidature in the media to take it because times are hard, but at the end of the day, such an acceptance of cash will only be bad if you allow it to influence your decision to vote," Moshake said.
The News conference which was attended by executives and supporters of Mr Bagbin was organised to celebrate late President Mills, whose incorruptibility and forthrightness, they said was being branded by Bagbin.
On his part, Mr Philip Yankey said the supporters of Bagbin who were still in the closet were free to choose to remain in the shadows, but pleaded with them not change their minds about voting for Bagbin.
He said six, out of the ten former Chairmen who endorsed former President John Dramani Mahama in 2017 were voted out of office and it was an indication that most NDC charges were yearning for a change in the forthcoming Presidential primaries .
Mr Amarh Evans, the Deputy constituency organizer said, "A.S.K Bagbin has been minority leader for two terms and the whole NDC was full of praise for his excellent performance, when he became the majority leader, Health Minister and Water Resources Minister.
He said Ghanaians saw how he worked perfectly in concert with President Mills to build Nursing Training schools and Regional hospitals with modern facilities, how he managed to solve Ghana's water shortage problems among many other things,
Infact, we have decided to celebrate Mr Bagbin and Late President Mills because of their good works."
Mr Azeez Salau, another executive member of Tema East NDC said "Bagbin's track record of success in politics is superior, he is very intelligent and provided effective leadership throughout his life, he is God-fearing and principled, he's known worldwide and cuts across political divide. He is the best for NDC 2020 and that is why he is the choice of many delegates across the country, nobody can use money to manipulate me against the respected second Deputy speaker of Parliament.
"I am happy to be part of his celebration in a grand style." Mr Salau concluded.
Source: GNA
Latest posts by Classic Ghana
(see all)