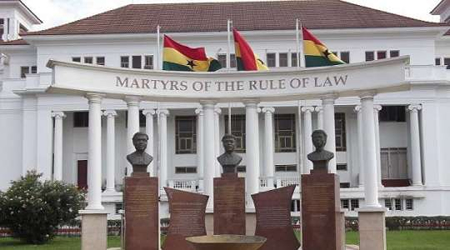 The Supreme Court has set January 21, 2019 for its ruling on an interpleader motion filed by former UT Bank claiming ownership of some properties out of many others identified by the State as belonging to the Alfred Agbesi Woyome.
The State has identified five substantial properties supposedly owned by Mr Woyome estimated at $1.5million dollars each that could prove vital in retrieving the GH¢51.2 million wrongful judgement debt he received from the state.
However, UT Bank claimed that some of the properties identified by the State belonged to them.
According to the Claimants the properties in question include two executive buildings located at Trassaco, a suburb of Accra and a mining quarry in the Eastern Region of Ghana.
Lawyers of UT bank claiming that Mr Woyome, used the said properties as collateral for loans from the bank which he had failed to pay back so their claim to ownership of the properties stemmed from the failure of Mr Woyome to pay back the loans.
Deputy Attorney General, Godfred Yeboah Dame, representing the state, said the State intends to sell the properties to offset the over GH¢51million wrongfully paid to Mr Woyome.
He argued that there was no evidence to show that the said properties were used as collateral by Mr Woyome to secure loans from UT bank.
The properties, according to the Deputy Attorney General were owned by Mr Woyome, and therefore prayed the Court to declare same as true to give the State the go-ahead to sell them.
The Court presided over by Justice A Benin then instructed all parties in the case to file their written submissions within two weeks.
Mr Woyome was paid over GH¢51million after claiming he helped Ghana raise funds to construct stadia for the hosting of the 2008 Africa Cup of Nations.
However, an Auditor General's report released in 2010 held that the amount was paid illegally to him.
Subsequently, the Supreme Court in 2014 ordered Mr Woyome to pay back the money, after a former Attorney General, Martin Amidu, single-handedly challenged the legality of the payments.
Following delays in retrieving the money, Supreme Court unanimously granted the Attorney-General clearance to execute the court's judgement by attaching and selling properties owned by Mr Woyome to refund the cash to the State.
Source: GNA
Latest posts by Classic Ghana
(see all)