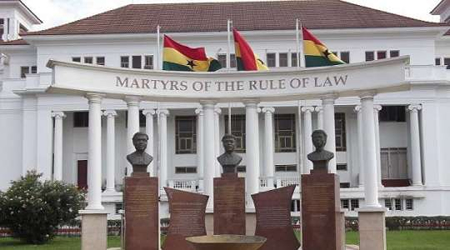 The Supreme Court has fixed October 23, this year to commence hearing into a suit challenging the constitutionality of the decision of former President John Mahama to pardon the "Montie three" who were sentenced to four months imprisonment for contempt of court.
They had threatened to kill then Chief Justice and other Justices sitting on a case at the Supreme Court.
The "Montie three" who were jailed were however granted presidential pardon the former President using his powers of prerogative of mercy after serving just one month of their jail terms.
The Supreme Court, presided over by Justice Sophia Adinyira gave the afore-mentioned date as a definite one for hearing when matter was called on Wednesday.
Out of the seven member panel, only four Justices were present in court.
Justice Adinyira said three of the justices were not present and that the Registrar of the Court did not give them prior notice before fixing the date.
According to her if they were made aware that the case was for today, she would have ensure that all the justices were present  and a date could be fixed for hearing and judgement delivery.
Nana Bediatuo Asante, Elikplim Agbemava and Alfred T. Yeboah, all lawyers filed similar suits so the cases were consolidated.
The Attorney General (AG) was represented by Mrs. Grace Oppong, Principal State Attorney.
Mr Akoto Ampaw represented, Nana Asante Bediatu while Mr Bright Obeng Manu represented Alfred A Yeboah.
Former President John Dramani Mahama granted the Montie three a presidential remission after they had served one month of their respective jail terms.
The suit was filed by Nana Bediatuo Asante in September last year, however, the state did not respond to the suit until a few days ago when the AG entered appearance.
Plaintiffs were seeking a declaration that the former President's action at that time was unconstitutional and was therefore seeking an order to have the "Montie Three" re- arrested and jailed so as for them to continue to serve their sentences.
The three were found guilty and sentenced following their threats on the airwaves to kill Supreme Court judges who were among a seven member panel hearing the case of Abu Ramadan challenging the eligibility of the voters register before the country's 2016 election.
The "Muntie three" are Alistair Nelson, Godwin Ako Gunn, Salifu Maase aka Mugabe.
Source: GNA
Latest posts by Classic Ghana
(see all)