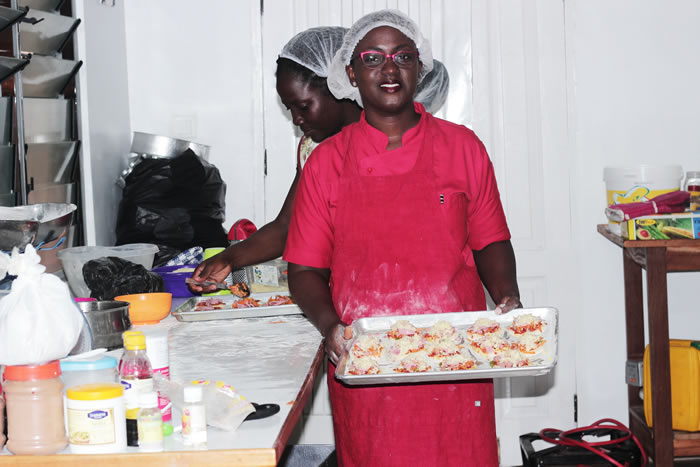 No Sarah's Cakes…No birthdays!
Some few years back 'Eto' (a local Ghanaian ceremonial delicacy made from either boiled yam, plantain or cocoyam, mashed and mixed with palm oil) was a popular feature in many homes for birthday celebrations.
The rich and healthy meal often garnished with groundnut, pear and egg in a way represented the birthday cake.
However, the past few years has witnessed a quick shuffle from how Ghanaians celebrate birthdays with Eto to lots and lots of birthday cakes.
No one can tell where the fascination and hype with birthday cakes is coming from. But what we do know is the burgeoning businesses it is creating and the massive employment opportunities it is providing for women.
In some organisations, birthday cakes have become part of the annual budget and all staff are entitled to a cake on their birthdays. In some schools, birthday celebrants are expected to share a cake with their class and teachers.
No Sarah's Cakes…No birthdays!
Mrs Sarah Naakai Quartey is the Chief Baker at Sarah Bakes Cakes– a thriving cake business she started in March 2015 during her maternity leave in Ghana.
Mrs Quartey did not set out to become a baker although her mother used to bake for the family during Christmas.
She got a wind of baking when she was pregnant with her first daughter and had to spend her maternity leave away from the UK.
During that period, she helped her mum to bake but she didn't think of it as a business until she came back home again on maternity leave for her second child.
"I visited Ghana again in 2011 when I had my second daughter and a friend of mine encouraged me to do cupcakes for her to sell at work for as low as Gh₵ 20 pesewas. Because it was just a matter of interest, I didn't really care about the money."
In 2014, Mrs Quartey would move with her husband to finally settle and work in Ghana where she took on a role as a Personal Assistant (PA) to the Managing Director (MD) of an Internet and telephone services company.
Working full time, managing a home and baking on the side, obviously proved difficult to handle.
"So, I started to wonder, will this go anywhere at all because it was a bit of a struggle managing my time between work and making cakes on the side," she said in an interview with Business World Ghana.
This challenge got her thinking seriously about pursuing her passion and this led to the birth of Sarah Bakes Cakes in 2015.
She started of lean with some savings and support from her  husband and family.
Today, Sarah Bakes Cakes is blossoming with about 50 orders in a busy week backed by a four-member team, including her husband who helps with social media marketing.
Her cakes and pastries, she says has travelled all over Ghana, even to places where she hasn't been to.
Her unique feature cartoon character birthday cakes, from Spiderman to Pokémon helps parents bring smiles to the faces of their kids on their birthdays.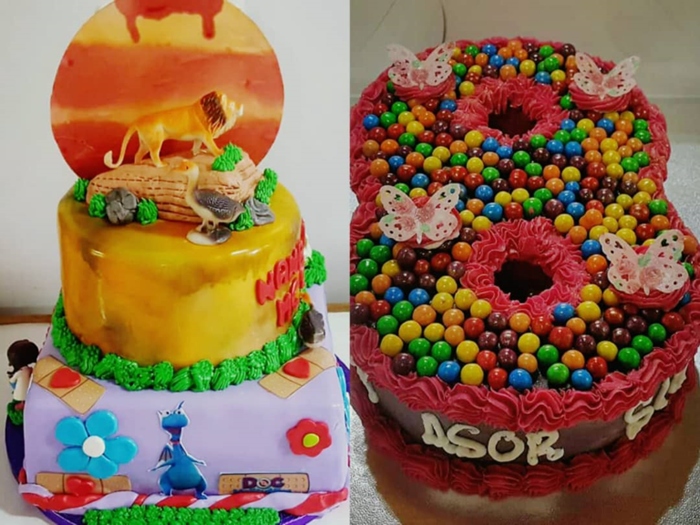 For Sarah, customers' health is a priority the reason why she has stuck by her strict policy of baking from the scratch, natural ingredients, no additives and  no cake mixes.
Having worked as part of an administration team in a court (Ministry of Justice) in the UK has helped her develop a firm approach in dealing with all kinds of customers she comes across.
When asked if the cake business is lucrative, she said; " business is good- it's able to take care of the family. It's not highly lucrative if you look at the fact that you must spend to get. It is lucrative in peak periods when you are doing a lot."
Who bakes for the baker on her birthdays?
Obviously, the baker can't bake for herself!
This question right up got Audrey-Bertha Nuerki Nartey, owner of Piece-o-Cake Gh  into thinking of innovative ways to transform local delicacy, 'Eto' into cakes.
"It was my birthday two years ago and people started asking me, so who is going to bake for you because you can't bake for yourself?" Audrey-Bertha Nuerki Nartey said in an interview with Business World Ghana.
She then decided that instead, she's going to mold Eto into a cake form and it worked perfectly.
"5 days later a friend ordered one, people got to know about it and it became one of my flagship products," she added.
It isn't surprising that she has taken to baking as she comes from a line of bakers and started baking since she was a child.
Both her grandmother and mother were bakers, but she only started baking professionally about 3 years ago when she decided to bake for the children at home.
She baked for a friend's child on her birthday on request and cake orders started flowing leading to her business, Piece-o cake-Gh
She maintains her regular job as a trainer at one of Ghana's biggest telecommunications firm during the day and bakes at night.
Her Unique Selling Point (USP), has been her 3 flagship cakes; Eto cake, Boucake and Cake in a bottle.
In a week, she makes about 10 cakes, but this ticks up to between 25 to 30 orders when she posts her colourful cakes on Facebook.
"And it works for me because I'm not a full-time baker. I'm planning to eventually move into it full time but not immediately," she further said.
When I made cakes for my daughter…
Mrs Francisca Malovyk also started her cake business some few years back and so far, business is booming as evident by posts and reviews on her business' Facebook page –Cakes by Franka
Although she was a caterer, she veered into full time baking some few years back.
She admits that the cake business is gainful and is currently overriding her catering business.
Her baking story is akin to that of the two women above.
"I learnt how to bake but I was not working with it until my daughter's birthday when I baked a cake for her. People said it was nice and started ordering for it,"
We are not sure where the sudden fascination and soaring hype for birthday cakes is emanating from. All we do know is that it is providing regular streams of income for many women and putting smiles on people's faces.
As Mrs Sarah Quartey puts it, "those doing it as a passion are bound to go a long way; those doing it for a short moment (following the crowd) will switch and leave after some time.
By Pamela Ofori-Boateng/Business World Ghana
Latest posts by Classic Ghana
(see all)