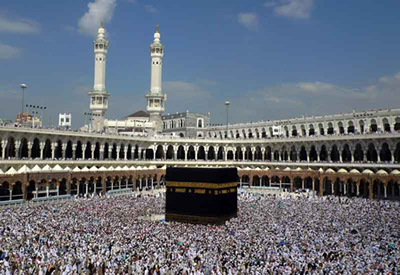 Three Ghanaian pilgrims are confirmed to have died during the 2018 Hajj in Saudi Arabia.
All three pilgrims died under natural causes and have since been buried in Mecca, Chairman of the Hajj Board, Sheikh I.C Quaye said on Wednesday.
"One of the victims died while boarding the aircraft, the second person passed on after observing the rituals in Mecca while the third pilgrim died at a medical facility," the Graphiconline.com has reported.
The victims are, however, yet to be identified.
This year's Hajj pilgrimage cost each person ȼ15,000, the actual fare was ¢19,500 but government absorbed ¢4,500 of the cost to each pilgrim to enable more pilgrims to embark on the holy journey.
A total of 5,700 Ghanaian performed the pilgrimage this year.
The 2018 11-member National Hajj Board was headed by former Greater Accra Minister, Sheikh I.C. Quaye and tasked to oversee the organisation of the annual Hajj.
He was assisted by Dr Seidu Zakaria, Abdulai Rahman Alhassan Gomda and Dr Sani Abduai.
Other members appointed by President Nana Addo Dankwa Akufo-Addo to work in various capacities with the Board in the next four years are Abdul Malik Adams Gariba, Mr Farouk Hamza, Sheikh Amin Bonsu, Alhaji Inusa Amadu and MMrKamal-Deen Abdulai
Also working with the Board are Ismaela Ibrahim, Mohammadu Osmanu Alidu, Mohammed Osumanu Yunusah, MMrBraimah Adams and Dr Mohammed Ibrahim Mohammed.
Last year Ghana flew some 5424 pilgrims on 12 flights with maiden four flights flying directly from Tamale to Jeddah.
Source: myjoyonline.com
Latest posts by Classic Ghana
(see all)