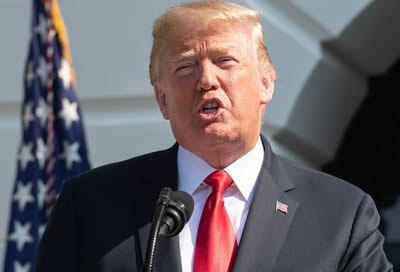 US President Donald Trump has attacked CNN's president Jeff Zucker on Twitter, saying that he should be fired.
President Trump said CNN's "hatred and extreme bias" towards him made the media organisation "unable to function".
"Little Jeff Z has done a terrible job, his ratings suck, & AT&T should fire him to save credibility!" he tweeted.
Mr Zucker is currently on six weeks' leave from CNN to recover from having heart surgery.
AT&T said it had no comment.
CNN declined to comment on the latest tweets, but directed the BBC to its response on Twitter to President Trump's tweets on Wednesday.
The broadcaster also pointed out that its ratings this month – 707,000 viewers – were its second highest ever achieved for the month of August.
Further, CNN highlighted the fact that comScore's Multi-Platform Media Metrix ranked CNN as number one in multiplatform visitors, mobile visitors, video starts, millennial reach and social following.
President Trump has long complained about CNN, maintaining that it is dishonest and focused on its own agenda.
CNN reporter Kaitlan Collins was barred from a White House event in July after asking questions about Russian President Vladimir Putin and Mr Trump's ex-lawyer, Michael Cohen.
In a second tweet on Thursday, President Trump also criticised NBC News.
"What's going on at CNN is happening, to different degrees, at other networks – with NBC News being the worst," he said.
He added that it was "good news" that NBC News chairman Andy Lack could be facing dismissal over his handling of a series of sexual harassment allegations against high-profile news presenters, as well as the hiring of former Fox News anchor Megyn Kelly.
Over the last few months, President Trump has also targeted the Washington Post, which is owned by Amazon founder Jeff Bezos.
In March, he accused the internet giant of ripping off the US Postal Service.
In June, he said that the Washington Post was "fake news", and was bought by Amazon in a bid to help it avoid paying internet taxes.
Source: BBC
Latest posts by Classic Ghana
(see all)