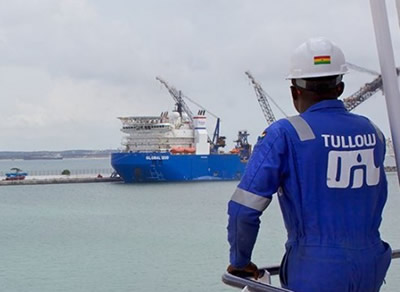 Tullow Oil is focusing on growing its production in Ghana after the International Law of the Sea (ITLOS) ruling in late 2017 and the approval of the Greater Jubilee Full Field Development Plan.
It is also interested in making further investments in new oil blocks off Ghana's coast as part of plans to consolidate its operations.
Speaking at a news briefing in Accra, Tullow Oil Chief Executive Paul McDade said the Joint Venture partners were expecting to spend over $500 million in Ghana this year.
He said to boost production, two wells had already been drilled and a third well was on-going, adding that production from the first well at TEN was expected to commence early in the second half of the year.
A second rig is currently being considered by the partnership to further accelerate Production and cash flow, Mr McDade said.
"We as a company want to consolidate our presence in Ghana after our investments in Jubilee and TEN (Tweneboa, Enyenra, Ntomme). We don't want to stop there but keep growing," he said.
Mr McDade said a combination of a strong financial and operational performance and the rising oil price had enabled Tullow to reduce its overall debt by around a third, placing the company on a robust financial footing for growing the business going forward.
He expressed the hope that the strong operational and financial performance in 2017 would continue this year.
Mr Kweku Awotwi, Managing Director of Tullow Ghana, said the company had so far spent $12.5 billion on the development of its Jubilee and TEN flagship assets and was also embarking on a flexible programme to optimise production and reserves recovery.
He said Tullow had made significant contributions to Ghana's economy and that six percent of Ghana's Gross Domestic Product was coming from Jubilee and TEN oil exports between 2011 and 2016.
Tullow is also delivering stable gas production to support domestic power generation while giving opportunities to local companies to participate actively in contracts in furtherance of the local content policy.
So far local companies, made up of international companies registered in Ghana and indigenous companies had participated in contracts worth $8.6 billion out of $14.2 billion, Mr Awotwi said.
Source: GNA
Latest posts by Classic Ghana
(see all)