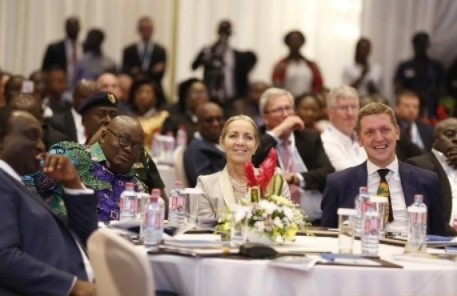 Mr Iain Walker, the British High Commissioner, on Tuesday pledged the United Kingdom's (UK) commitment towards supporting the Government's "Ghana Beyond Aid" agenda, for it to become a reality and not a rhetoric.
He said the UK would work collaboratively with Ghana to realise her development aspirations, emphasising that public-private partnerships were the best way to go.
He said the UK viewed Ghana as an equal partner in development, adding that the British Business Community was poised to partner Ghanaian businesses on investments.
The British High Commissioners gave the assurance when he addressed key stakeholders at the Third Edition of the UK-Ghana Investment Summit in Accra, held on the theme: "The Investment Case for Ghana".
He said the Summit would rejuvenate and build upon the already strong and historic bilateral relations  for their mutual benefits.
The two-day summit, organised jointly by the UK Government, the UK-Ghana Chamber of Commerce (UKGCC), the Ministry of Trade and Industry and the Ghana Investment Promotion Council, attracted captains of industry, the development partners and Ministers of State, as well as the UK Business Community and public institutions.
Government officials from the two countries held high-level discussions on infrastructure, trade and investment, manufacturing and industrialisation and explored potential partnerships between Ghana and UK businesses and investment opportunities for their mutual benefits.
The second day of the Summit was dedicated to discussions on the state of the country's infrastructure and industrialisation and how potential investors could leverage it to support the "Ghana Beyond Aid" agenda.
Mr Yofi Grant, the Chief Executive Officer of the Ghana Investment Promotion Centre, in a presentation on the investment opportunities in Ghana, said the nation over the years had positioned herself as the gateway to West Africa, and strategically located at the centre of the world to welcome potential investors to the Sub-region.
He outlined some priority areas for investment, including energy and power, information communication technology, banking and finance, trade and industry, oil and gas, road and railway infrastructure and agriculture.
He said the Government was looking for partnerships in other sectors like real estate and value-addition to the country's agricultural raw materials so that the country would be competitive on the global stage.
Source: GNA
Latest posts by Classic Ghana
(see all)