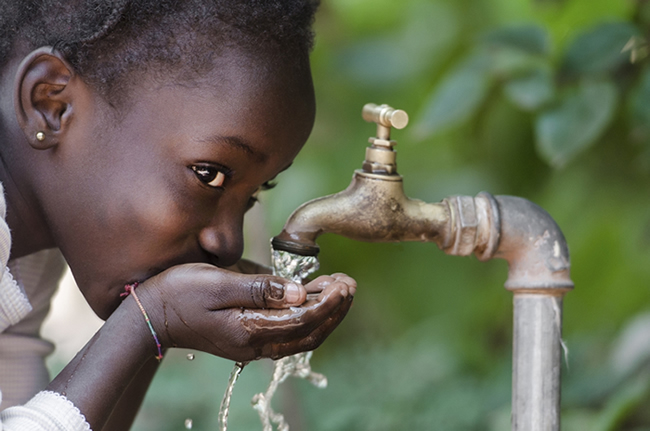 The Minister of Sanitation and Water Resources, Madam Cecelia Abena Dapaah has called on the public to use water modestly and wisely in this partial lockdown period.
She urged the public to refrain from using water for watering the garden, car-washing and other unprofitable activities that could lead to acute water shortages in other areas.

The Minister condemned a viral video circulating on the social media, showing a young man sitting in a bowl and had opened the tap on himself, thereby willfully wasting treated water, saying; "That young man is not setting a good precedent".

President Akufo-Addo, during his fifth national broadcast on Sunday night, April 5, announced Government's decision to absorb the water bills of all Ghanaians for April, May, and June to mitigate the economic impact of COVID-19.

The President also further directed the Ghana Water Company Limited (GWCL) and the Electricity Company of Ghana (ECG) to ensure a stable supply of water and electricity throughout the country.

Speaking at a media briefing to provide further clarification on government incentives following the partial lockdown, Madam Dapaah lauded President Akufo-Addo for the humanitarian gesture and advised Ghanaians to ensure the judicious use of water at home.

He entreated landlords selling water to their tenants to stop since the government would foot the cost of the bill during the three months period.

"People should stop watering their gardens. Even the gardeners are not working now and also let's stop using treated water for washing our cars.

"Use a bucket of water. If not we might have to ban people from washing their cars. Let's all be modest," the Minister said.

Meanwhile, the GWCL has said all customers in default of the payment of their water bills would not enjoy the government's free water supply.

Dr Clifford Chief Braimah, the Executive Officer of the company, on Monday, April 5, told the media that all customers whose pipelines have been disconnected for non-payment of bills would not be reconnected.

He said those who owe the company must pay their debts in order to be guaranteed the free water supply.


Source: GNA
Latest posts by Classic Ghana
(see all)