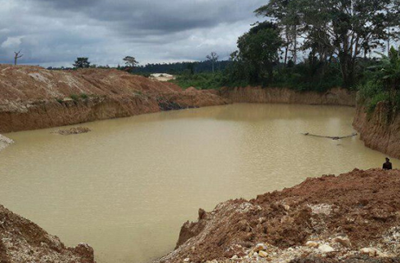 A University Don, has called for the strict compliance of the enforcement of policies on pollution of water bodies and the prosecution of companies and individuals who pollute them.
Professor Joshua Danso Owusu-Sekyere of the Department of Agriculture Engineering, University of Cape Coast (UCC) who made the call said criminalizing water pollution was a must in view of the high level of pollution of the country's water bodies of recent times.
Delivering his inaugural lecture on the topic, "In the abundance of water, the food is thirsty" at UCC on Wednesday, Prof. Owusu-Sekyere said lack of infrastructure as well as poorly managed resources over the years had denied many people access to water.
Citing the current pollution of rivers such as the Offin, Tano, Ankobra and others to indicate the enormity of water pollution in the country, he warned of a possible "third World War" over water if urgent steps were not taken to address the situation.
"Fresh water is finite and competition for fresh water is going to be keener in the near future as more industries come up".
According to him, water was the most strategic and critical resource on the globe that remained an essential commodity dependable for every society's economic development and wellbeing.
He therefore called on the Government to invest heavily to improve water management and water infrastructure in the country.
Prof Owusu-Sekyere, whose research focused on water use and crop production, noted that water scarcity had threatened and continue to threaten food security and therefore, promoting modern agricultural irrigation technologies was an important measure against water scarcity.
He entreated the Ghana Irrigation Development Authority (GIDA) to research into and adopt water saving irrigation techniques that were efficient and also environmentally friendly to ensure enough water to grow food for the future generation.
Additionally, Prof Owusu-Sekyere called for a national drive to develop a rain water harvesting system where each household would be required to build rain water harvesting system to mitigate rain water loses in the country.
He said, although increased agriculture was required to provide food for the increasing World population, it must be done such that it does not worsen the already scarce fresh water situation. Dwindling of fresh water allocation if not checked will greatly affect food production.
Prof Owusu-Sekyere has conducted extensive research into deficit irrigation, water saving irrigation, crop water requirement under a changing climate and water control for crop production.
Source: GNA
Latest posts by Classic Ghana
(see all)