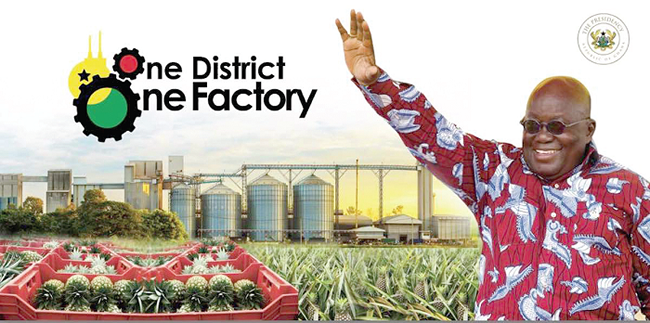 Mr Robert Ahomkah-Lindsay, Deputy Minister of Trade and Industry has reiterated government's commitment to delivering on its one district one factory promise, by the close of 2020.
He said the "One District, One Factory" also known as "1D1F" had made significant strides receiving over 700 business plans out of which 618 had been reviewed with 319 deemed "bankable" by experts and analysts of the policy, so government was on course.
Mr Ahomkah-Lindsay at the launch of the District Implementation Support Teams (DISTs) in Ho, said 90 per cent of expressions received were from Ghanaians and 24 out of the 319 from the Volta Region.
The Deputy Minister assured that eleven factories would be established in the Volta Region by the end of 2018.
He said eight local financial institutions in the country had already committed 2.5 billion cedis to the 1D1F policy, which would achieve the main objective of the policy by creating over 291,000 new jobs.
Mr Ahomkah-Lindsay said the 1D1F had a 2018 target of covering all the ten regions, initiating 100 new factories and expanding existing ones.
He said among the 319 business plans in the pipeline were over 200 existing companies wanting to expand or old ones that had been shut down with the defunct Darko Farms receiving 22 million cedis to revive its farms, employing about 800 people.
Mr Ahomkah-Lindsay called on traditional authorities to make available, large tracts of arable lands to feed the factories as 46 per cent of proposals received were into agro-processing.
Dr Archibald Yao Letsa, Volta Regional Minister, said countries without industrialization automatically became import dependent with negative balance and high unemployment rate.
He said the government had taken cognisance of the trend and was working hard to reverse it by fully implementing the 1D1F
Dr Letsa tasked the various DISTs to work assiduously to ensure that the Region got its share of the initiative.
The DISTs to be chaired by Municipal District Chief Executives and co-chaired by the respective Members of Parliament is to assist promoters finalise land acquisition and registration process where necessary.
They were also to help investors fulfil statutory requirements like the Environmental Protection Agency (EPA) Certification, among others whilst facilitating the extension of infrastructure to project sites.
Source: GNA
Latest posts by Classic Ghana
(see all)