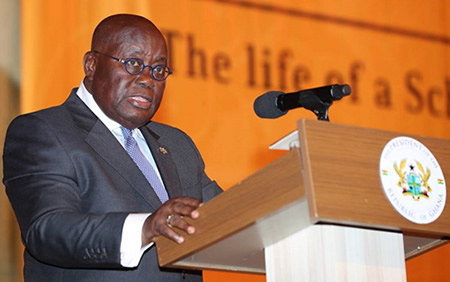 President Nana Addo Dankwa Akufo-Addo has pledged to ensure prudent management of the nation's resources to build a more robust and resilient economy.
They were determined to make the vision of Ghana beyond aid, a dream come true.
He was addressing the chiefs and people of Ho and Adaklu during an inspection of a Youth Centre Project in the Adaklu District.
President Akufo-Addo was in the area as part of his three-day working visit to the Volta Region.
This was meant to provide the opportunity to interact and learn at first hand the felt-needs of the people in the region.
He said "the sane and lucid management of finances will position us to address the huge infrastructural deficit that is facing the country."
The President assured everybody that there would be equitable distribution of the national resources for even development.
He expressed upset about the mismanagement of the national resources in the past, which negatively affected resource utilisation.
He urged the people to make sure leaders they selected were selfless – those who would help to grow the "national cake" but not people who would shrink it.
The President Akufo-Addo called on chiefs to support the creation of new regions for effective governance and rapid development.
Togbe Agbobada, Senior Divisional Chief of Adaklu Anfoe, said stalled road projects, lack of potable water and health facilities were affecting the development of communities in the area.
He also complained about persistent encroachments on Adaklu lands and appealed that the phase three of the Land Administration Project was extended to the area.
President Akufo Addo promised to engage relevant stakeholders to address the challenges, and said several cattle ranches were being established across the country to help safeguard the environment.
Source: GNA
Latest posts by Classic Ghana
(see all)