After graduating with an Executive Master of Business Administration (E.M.B.A) from the University of Ghana Business School this year, Actress Rabby Bray doesn't seem to be slowing down. The actress joined the cast of the popular Tanzania Television series 'Juakali' some weeks ago.
She expressed her excitement in an interview yesterday in Accra, stating that the experience has been of great benefit to her career.
According to Bray, the experience so far has been overwhelming. "The love and support from Tanzanians is incredible. We are enjoying an amazing time on set. This is a good addition to my career. I do not regret being part of the 'Juakali' family at all. It has even given me an additional 14,790 followers on social media and counting; just within 4 days of airing some of my scenes. Now, I'm considering studying Swahili so I can interact with them and be closer to their culture".
Bray plays a loyal friend of the main character 'Anna', who is on the quest to find love. As her friend, she gives a helping hand every step of the way; even when Anna loses her confidence sometimes.
The television series 'Juakali' is directed by Lamata Leah and features other actors from Ghana such as Van Vicker, Nadia Buari, Fiifi Coleman, and Patience Ozokor from Nigeria. 'Juakali' is a DSTV production and can be viewed even in Ghana on 'Maisha Magic Bongo' channel 160 on DSTV at 6:30 pm GMT and 3:30 EAT from Wednesday to Friday.
Finally, Rabby Bray promised more surprises next month in April for film talents and fans of African cinema. She called this the 'Ultimate Cinema Experience'.
Source: Graphic Showbiz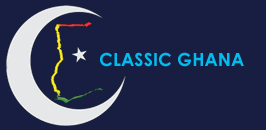 Latest posts by Classic Ghana
(see all)