President Nana Addo Dankwa Akufo-Addo has commended the Ghana Police Service (GPS) for making inroads in curbing indiscipline on the road and reducing crashes and deaths.
"Through its safety-targeted interventions, the police have worked to ensure a 20 per cent decrease in the number of persons killed through road accidents and crashes," he said.
President Nana Akufo-Addo, who was presenting 100 pick-ups, six armoured vehicles, and 600 motorbikes to the police at the Police Headquarters, Accra, noted that the strict enforcement of motor-traffic rules and regulations was responsible for the latest healthy development.
"Instilling discipline on our roads is one area the police have made a lot of gains. This is highly commendable," he remarked.
Interventions, including the 'Police Invisible Eye', had been significant in changing behavioural attitudes in respect of the adherence to motor-traffic regulations, the President noted.
"We now see that most motorbike riders now stop at traffic lights for their own safety, and the safety of other road users.
"The incidence of the abuse of sirens has greatly reduced, especially within Accra," he said.
President Nana Akufo-Addo appealed to motorbike riders and other road users to obey traffic regulations at all times.
"Ghana needs all of her citizens to have her move forward," he said.
A recent publication in the Ghana Medical Journal, themed: "Road Traffic Accidents in Ghana – Contributing Factors and Economic Consequences", says more than 60 per cent of road traffic fatalities occurred in children and young persons under 35 years of age.
The article said, "In Ghana, 72 persons out of every 100, 000 population, suffered from grievous bodily injury, and close to eight of the same population died from road traffic accidents (RTAs) over the past decade."
The publication, authored by Dr. Paa Kwesi Blankson, of the Oral and Maxillofacial Surgery Unit, Korle-Bu Teaching Hospital, and Dr. Margaret Lartey, Department of Medicine and Therapeutics, University of Ghana Medical School, bemoaned the devastating effects of road accidents to the Ghanaian society.
"Aside the mortality and morbidity associated with the road crashes, Ghanaian households spend an average of $1687.65 in direct and indirect cost on severe injuries associated with road crashes, while many suffer considerable degrees of psychological distress," the Journal reported.
Source: GNA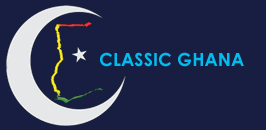 Latest posts by Classic Ghana
(see all)