FOR those in the Americas and Europe, makeup has always been a big deal and one that pays really well but for us in Ghana, it has taken us some time to catch up to that realisation.
Until recently, makeup was seen as being for dropouts or never-do-wells but now, it's a very lucrative business and makeup artists are very much in demand.
That is wonderful news for the CEO of Makeup Ghana, Rebecca Donkor, who says she will encourage young people still looking for something to do to go into makeup.
"Growing up, it was mainly dropouts who took up makeup but the situation has changed as more well educated people are into makeup.
"You name them bankers, lawyers, doctors and very successful people are into makeup and that should tell anyone that there is money to be made from it," Rebecca said.
Rebecca, who is the founder of the Ghana Makeup Awards, said she realised the makeup industry was huge when she opened nominations for her scheme the first time.
"I was surprised to see the calibre of people who filed for nominations. Most of them are very educated but due to how lucrative the business is, some of them are forgoing their main professions and concentrating on doing makeup.
"Now, people who are not too educated and the elite are into makeup which is making the trade so interesting. We have bridal makeup, effects makeup, celebrity makeup and makeup artists are doing well for themselves," she said.
The Makeup Awards is in its fifth year and Rebecca Donkor said she was surprised at how far the scheme had come, considering that she nearly quit in its second edition.
"We had Unibank as title sponsors for the second edition and a month to the event, the bank was shut down. It was a big blow for me and even though the team wanted us to quit, I continued and today the scheme is big," she added.
Rebecca is the founder of the College of Beauty Arts & Entrepreneurship, a pre-tertiary and a tertiary educational institution, as well as the Beauty Business Chamber, a private network of individuals and corporate firms from across Africa's beauty industry.
The young woman, who holds an MBA in Marketing & Entrepreneurship from the University of Ghana Business School, is an ambassador for the Youth Employment Agency.
Recently, as part of her advocacy on the need for standard operating procedures within the beauty industry, Rebecca spearheaded the development of national curricula for two accredited programmes in Makeup Artistry, in partnership with the COTVET, as well as working on a code of practice for the beauty industry, in partnership with the Ghana Standards Authority.
Source: Graphic Online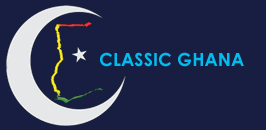 Latest posts by Classic Ghana
(see all)