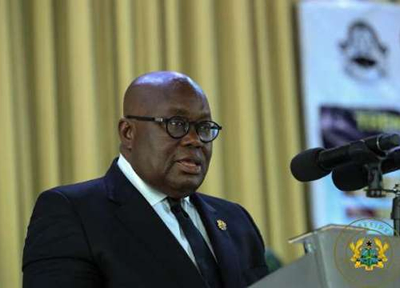 President Akufo-Addo and Vice President Bawumia will receive the first dose of the COVID-19 vaccine Monday morning.
Whilst President Nana Addo Dankwa Akufo-Addo will take his jab at the 37 Military Hospital, Vice President Mahamudu Bawumia will take his at the Police Hospital, all in Accra.
They will take it together with their spouses, First Lady Mrs Rebecca Akufo-Addo and Mrs Samira Bawumia.
It would be live on television to show Ghanaians that it was safe to take.
It will mark the beginning of the deployment of the 600,000 doses of AstraZeneca vaccines from Tuesday March 2 to Monday, March 15, 2021 by the Ghana Health Service (GHS).
The vaccines made by the Serum Institute of India (Covishield), arrived in Ghana on February 24, 2021.
It will be deployed in 43 districts which are the epicenters of the pandemic in Ghana.
They are 25 in the Greater Accra Metropolitan Area and two in the Kasoa area [Awutu Senya East and West], 16 in the Kumasi Metropolitan Area and Obuasi area.
President Akufo-Addo in his address Sunday night said whilst Ghana was initially concentrating on the 43 epicenter districts, preparations are being made for the vaccination of a total of 20 million Ghanaians through the deployment of 12,471 vaccinators, 37,413 volunteers and 2079 supervisors for the entire vaccination campaign.
Therefore, ahead of the commencement of the vaccination programme on Tuesday, "my wife the First Lady and the Vice President, his wife the Second Lady, and I, will take the vaccine publicly at two health facilities in Accra. Key public officials such as Speaker and Members of Parliament, the Chief Justice and Justices of the Superior Court of Judicature, the Chairperson and members of the Council of State, the Chief of Staff and senior officials at the Office of the President and prominent personalities and some eminent clergy, the National Chief Imam, the Asantehene, the Ga Mantse and some media practitioners will also on Tuesday take the jab publicly. This is being done because the vaccine will help to protect us against the impact of COVID-19.|
"It is also a major catalyst to restoring livelihoods and the national economy to the robust level it belongs."
President Akufo-Addo encourage faith based groups, civil society and the media and all Ghanaians to support the public education campaign associated with the exercise as all hands are needed on deck.
Source: Graphic Online
Latest posts by Classic Ghana
(see all)