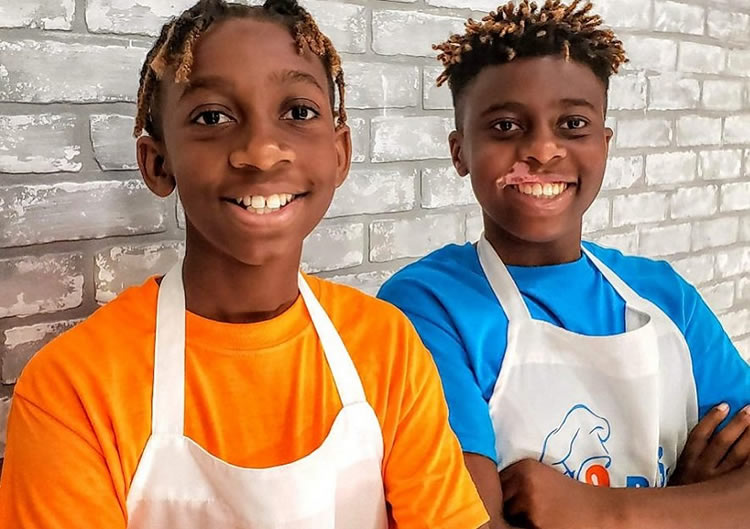 Shane Mushambi, 13, and Nigel Mushambi, 12, of Missouri City are technically only in middle school, but the two brothers have learned to balance college classes and community service while running their own bakery business.
The two young boys are the minds behind Two Bros. in the Kitchen, a business they started after winning a local baking competition three years in a row. For every cake or cupcake they sell, they donate part of the proceeds to charity, according to a local station ABC13.
"We like giving back to the community because the community has given a lot to us," said Shane, who is the CEO and Chief Recipe Developer of the bakery.
Alongside Nigel, who is the CFO and Inventory Manager, the amazing duo has, so far, donated hundreds of meals to the homeless.
"2 Bros. in the Kitchen doesn't just want a world filled with happy taste buds. We want people to have happy stomachs and hearts too. That's why we partner up with non-profit organizations that provide meals for homeless, toys for children and funds for medical care.
"We are currently working with the J.B. Dondolo Foundation to raise funds for much-needed repairs to a hospital in Zimbabwe," the two said on their website.
"We know that life can be bitter sometimes. So, 2BrosITK are sprinkling a little bit of sweetness into the lives of unsuspecting individuals via our Pay-It-Forward Program. Our program is quite simple and ingenious at the same time.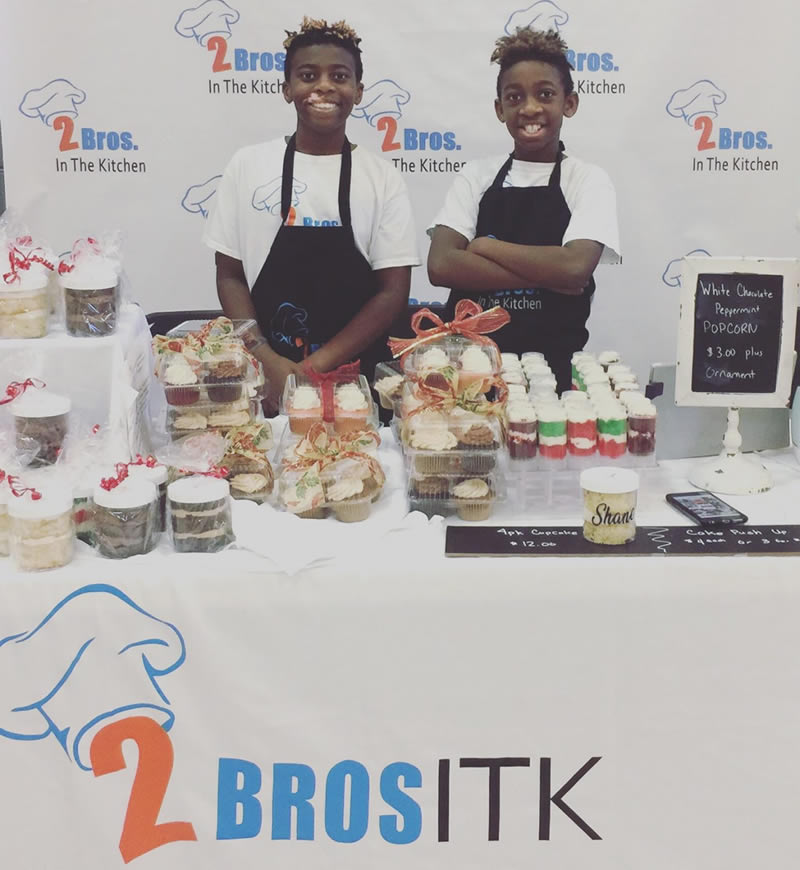 "Customers simply buy an extra Cake In A Jar that we distribute randomly. Then, we ingeniously bless a charitable organization with a portion of the proceeds just like we do with all of our cakes in a jar. You may even get a mention when we post the picture of the recipient to our sites. It's A Double Blessing!" their website added.
The two brothers are not only standing the heat in the kitchen, but they are also doing tremendously well in the classroom. Shane and Nigel both love math and science and that love has influenced their baking.
"I like to bake because it's a mix of art and a mix of science," said Shane. "You need to know how acids react to bases."
Shane is an eighth-grader, but he is already taking college-level math and engineering courses at Houston Community College, while Nigel, who is in seventh grade, is scheduled to take a pre-calculus course in the coming months.
Having an interest in writing as well, the two brothers recently published their first book, Beyond The Kitchen: How to Cook up Success with Life's Mistakes, which is available on Amazon in paperback and via Kindle.
"It's about our failures that we've made in the kitchen and how we learned from them," said 12-year-old Nigel.
"It teaches how you don't have to be perfect to succeed," his brother Shane added. "It's okay to fail as long as you learn from it."
They are at the moment donating $1.00 to the JB Dondolo Foundation for every book sold.
Shane and Nigel are among a number of amazing black children, some as young as four, who are setting up their own businesses. From the likes of Moziah Bridges, who owns tie company, Mo's Bows; Mikaila Ulmer, CEO of Me & the Bees Lemonade to Mr Cory, these young people have realized the value of entrepreneurship and how being white-collar workers working from nine to five for someone might be a waste of their talents.
It is interesting that some of them do also appreciate the importance of giving back. Donovan Tyee, founder of Toil and Trouble Bath in New Mexico, donates about 20 per cent of sales from his products to the Supportive Housing Coalition of New Mexico, an organization that helped him and his mother have a fresh start when they struggled with homelessness years ago.
Meanwhile, Shane and Nigel have been sharing in the following video how they are giving back to the community in the sweetest way:
Source: Face2face Africa
Latest posts by Classic Ghana
(see all)