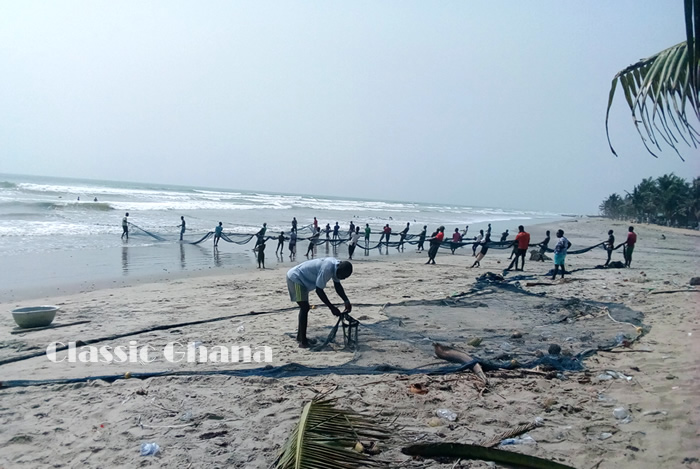 Kweku Mensah, a 43-year-old fisherman from Axim has been fishing off Ghana's coast since the age of 15.
Over the past 30 years, he has seen the fishing industry change dramatically, and is upset about, what he says is the non-involvement of fishermen in important decisions affecting their lives and the industry.
The lack of transparency and cooperation comes at a time when Ghana's fishing industry is facing challenges – changes in fish migration patterns and growing competition from larger, commercial fishing trawlers.
He adds that many of them are bitter that calls to the Fisheries Commission (FC) and the Ministry of Fisheries and Aquaculture Development (MoFAD) to engage fishermen in the decision-making processes and activities largely remain unheeded.
Fishing in Ghana, a dying industry?
In excess of 10 percent of Ghana's population is engaged in the fisheries sector. According to the MoFAD, the majority of those dependent on fisheries are artisanal fisher-folks and fishmongers.
Despite this huge number of people employed by the sector, its contribution to the Gross Domestic Product (GDP) has been abysmal in recent years.
A sector that formerly contributed over five per cent of the GDP is now accounting for less than two per cent.
Records at the Ghana Statistical Service (GSS) show that the sector contributed 2.5 per cent, in year 2009, to the GDP, and 2.3 per cent in 2010.
This, however, fell to 1.7 per cent in 2011 and has since not seen any improvement. The figures clearly point to a sector in distress.
Criminality and illegality in fishing
The sector is a high-value one, which involves substantial amount of both foreign and local investments. However, it is also the sector that is associated with much secrecy and corruption.
A study conducted by the Organization for Economic Cooperation and Development titled "Better Policies for Development 2014: Policy Coherence and Illicit Financial Flows", notes that the fisheries sector is of strategic importance to many countries but remains vulnerable to a wide range of tax crimes and other transgressions – corruption, drugs and arms smuggling.
In Ghana, there are concerns, regarding fisheries data collection and reporting, vessel ownership and licensing, the Fisheries Development Fund and illegal trans-shipment (saiko) at sea.
Added to these are the indiscriminate use of chemicals and explosives by canoe fishermen to increase fish catch and light fishing by both small-scale and industrial vessels. These practices without doubt are hurting the nation's valuable marine resources.
This is being compounded by the intensity of fishing in Ghana's waters, resulting in dwindling fish stocks with fishing boats often returning from sea empty.
Illegalities are thriving in the sector, partly because of the lack of transparency in the management, monitoring and regulations enforcement.
One can cite the absence of public information on sanctions that go with illegal, unreported and unregulated (IUU) fishing offences.
There is also inaction on breaches by industrial vessels, such as the use of prohibited fishing gear to catch juvenile fish, poaching of fish in the Inshore Exclusion Zone (IEZ) reserved for canoe fishers and the issue of too many industrial vessels in Ghanaian waters.
The result has been the mistrust and the associated reluctance of canoe fishers to give up on their own illegal fishing practices, driving further the decline in fish stocks.
Currently, there is no information in the public domain on sanctions for IUU fishing infringements or the number of licences issued for industrial trawlers (the licence list has not been published on the Ministry's website since June 2018).
According to the 2015 data, fines for fisheries violations are often negotiated to well below the minimum of US$1 million set out in the law for industrial vessels, through opaque out of court settlement processes.
The Ministry has yet to publish any information on how much fish is caught annually in Ghana as set out in the Management Plan. This is particularly, worrying, for the industrial trawl fleet.
Sources indicate an increase in reported catch from 18,500 tonnes in 2014 to 67,000 tonnes in 2017, not taking into account illegal landings through "saiko" which is estimated to have reached 100,000 tonnes in 2017.
The Annual Reports of the Fisheries Commission have not been published and it would therefore be impossible to accurately gauge the trend.
John Cudjoe, a fisherman from Shama also feels monies from the premix fuel and the Fisheries Development Fund are not being utilized to their benefit.
Illegal practices and mistrust among stakeholders continue to weaken management measures meant to conserve fish stocks and ensuring their long-term sustainability for food security.
The need for transparency
Averting the trend of stock depletion and the mistrust among stakeholders requires strong and immediate policy management actions. That would also demand effective stakeholder engagement on issues relating to fisheries management.
Lack of proper consultation has been the bane of the implementation of fisheries regulations and the management of coastal resources over the years.
There is the increasing recognition of transparency as vital for responsible fisheries governance – the key to the sustainable management of marine fisheries.
The centralised, top-down approach to law enforcement has proven to be ineffective due to the dispersed nature of fishermen in Ghana.
Fishermen kicked against the proposed 2018 closed season because they were not properly engaged. Currently, fishermen are aggrieved by the posture of the government to legalise "saiko" fishing.
Mr Kweku Takyi, a fisherman from an age-old fishing community of Apam, speaks of how fishermen obeyed fishing rules and regulations in the 1970s and 80s because of the active engagement and education they received.
"In the 70s and 80s, we were from time to time educated and briefed on the available legal fishing gear and methods. Because of that we obeyed the laws and as a result, we had plenty of fish… but this kind of engagement has stopped … same cannot be said of today"
Even though he agrees some engagements are being done, he insists this has been irregular.
He encouraged the government to increase its engagement with the fishermen, educate and help them to understand the harm bad fishing practices are causing.
With over 40 years of fishing experience, he is calling for bold decisions and initiatives to clamp down on all forms of IUU fishing practices.
Many fishermen and fishmongers, spoken to are clearly unhappy about the activities of the foreign vessels in Ghanaian waters and would want to see firm action to stop their operations.
They also disapprove of the practice where Ghanaians used their names to register and secure licenses for industrial trawlers for foreign nationals.
A report by the Environmental Justice Foundation has confirmed that foreign companies – overwhelmingly Chinese – operate through Ghanaian 'front' companies, using opaque corporate structures to import their vessels, register and obtain a licence.
In 2015, 90 per cent of industrial trawl vessels licensed in Ghana were built in China, and 95 per cent, captained by Chinese nationals.
The other concern is the politicisation of fisheries issues.
"If we will be able to bring transparency into the fisheries sector as we all would like to see, then we should separate political party issues from national issues", Takyi said.
Francis Mensah is urging strong engagement between fishermen, government and other stakeholders to provide workable solutions to problems bedevilling the sector.
Transparency in the fisheries sector has become a global concern and is gradually being accepted by stakeholders. It has become an indispensable tool for sustainable marine fisheries management.
Having realised this, stakeholders at a round-table held, last November, called for the government to improve transparency in the management and governance of the country's fisheries and to sign on to the Fisheries Transparency Initiative (FITI).
FITI is a global initiative to support national, regional and global efforts to increase transparency and participation in fisheries governance for a more sustainable management of marine fisheries.
The stakeholders made up of fishermen, CSOs, government and Fisheries Commission officials said it was the way forward to maintain high level of transparency, something critical to transforming the fisheries sector.
It would allow fisheries managers and regulators to properly address issues surrounding licensing, prosecution, vessel monitoring, and illegal trans-shipment among others.
Mr Thomas Insaidoo, a Deputy Director at the MoFAD, contributing to round-table discussions, admitted that gaps exist so far as the management of the marine fisheries in Ghana is concerned – all of that attributable to a lack of transparency in the sector.
He said "for the fisheries sector to be protected and effectively sustained, it is important to ensure transparency and accountability".
Mr Kofi Agbogah, the Director of Hen Mpoano, asked that stakeholders demonstrated commitment towards ensuring transparency, participation and accountability to reform the sector.
"There is an urgent need for transparency in the sector to address the perennial concerns of fisheries data collection and reporting, Fisheries Commission board composition, vessel ownership and licensing, the Fisheries Development Fund, and illegal trans-shipment".
Mr Agbogah identified political interferences, low empowerment of local leadership (chief fishermen) and low engagement of fisher folks as challenges that should be tackled.
Going forward, Government must work towards addressing such challenges by intensifying its engagement with fisher folks and empowering their leaders.
He also encouraged the general public to demand information from the Fisheries Commission and the MoFAD to increase their understanding and awareness of how the sector is governed.
"If government is able to address illegal fishing and over-capacity of the industrial trawl fleet, artisanal fishers would be encouraged to abide by the fisheries laws and support all efforts of co-management" he added.
By Afedzi Abdullah
Source: GNA
Latest posts by Classic Ghana
(see all)