Rufftown Records in a letter written to Francine Nyarko Koffi, popularly known as Fantana seeks to terminate her contract.
The letter spotted by African Post Online indicates the meeting time at 1 pm on Monday 18th May 2020 which will take place at the companies office in East Legon, Accra.
The record company claims that their attention has been drawn to two separate occurrences in the last two days on Instagram. The incident in their opinion seeks to dint their hard-working reputation in the music industry. Rufftown is not happy with statements made by Fantana which seems to reveal secrets to the public.
Fantana and Wendy Shay, signed to the same record company are like cats and dogs. Fantana in an interview on the radio said Wendy Shay is a 'local champion' in the music industry. Wendy shay replyed Fantana by insulting her teeth as big yet unable to make hit songs.
Fantana took the insult personally and made certain statements on social media in an attempt to address Wendy. She stated that Wendy did not introduce her to Rufftown as she earlier alleged and that Rufftown records asked her to lie as a form of supporting women empowerment.
She added that she doesn't want any of Rufftown's songs because their lyrics are finished and advised Wendy to keep Rufftown and all the songs.
She also reiterated that Wendy is wicked, with a black heart and wants everything for herself. She claimed Wendy sees her as a threat.
Letter by Rufftown to Fantana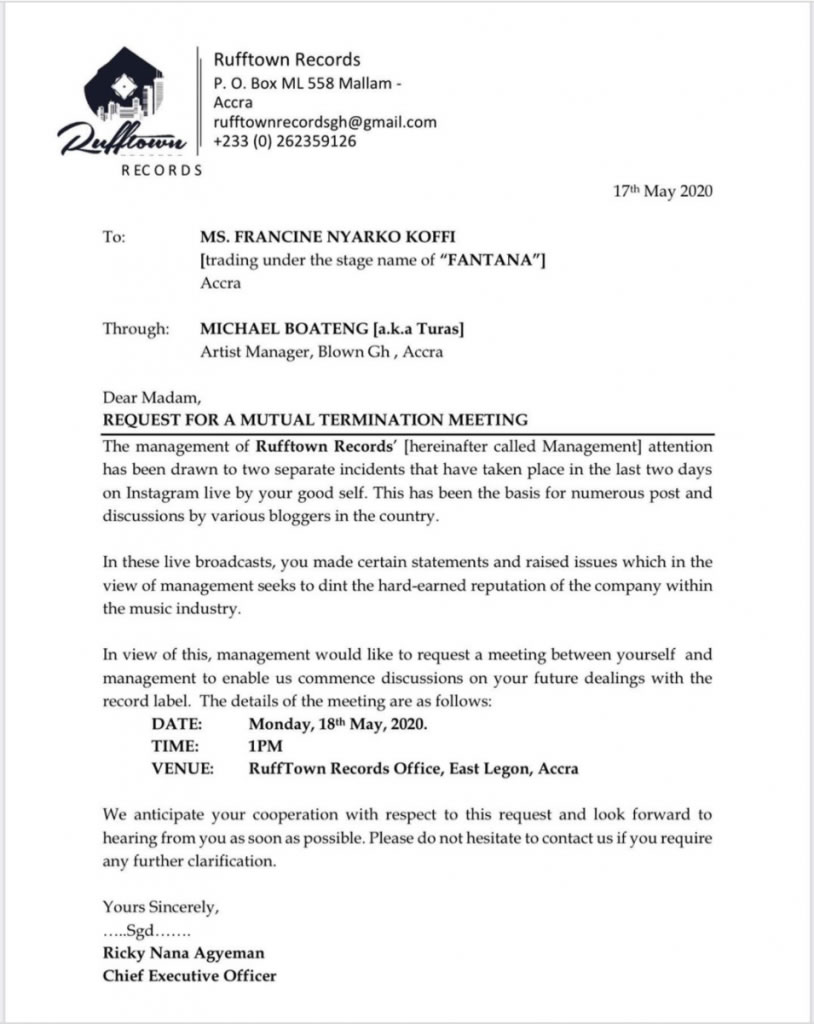 Source: African Post Online
Latest posts by Classic Ghana
(see all)