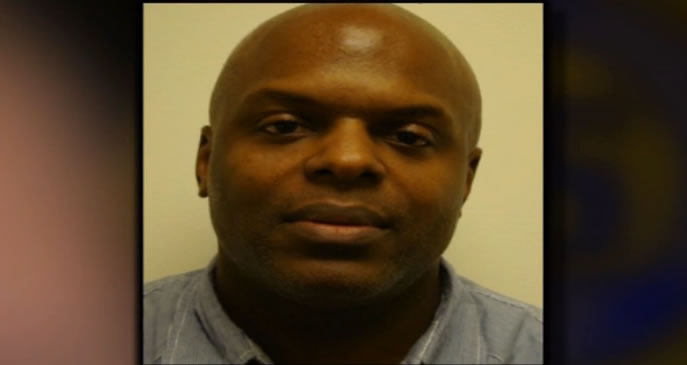 The news of the death of actor, Chris Attoh's wife, Bettie Jenifer, has left fans of the award winning actor, across the world stunned.
Since Friday, when news of the identity of Bettie Jenifer, who was killed when she left her office in the 6300 block of Ivy Lane about 5 p.m., was confirmed to be the wife of the 6 Hours to Christmas actor, Ghanaian social media has been buzzing.
There was, however, a new twist to the issue when on Sunday, April 12, the police said Bettie Jenifer was married to two different men simultaneously, one of whom is a convicted Baltimore drug lord, Kedrick Jenifer.
The identity of Chris' rival as a drug lord has raised a lot of concerns about the latter's safety and his fans have expressed their fears on his various social media platforms.
So who is Kedrick Jenifer nicknamed Pretty Rick? A report sighted by Graphic Showbiz on American website, Dondivamag.com, described Kedrick as "one who was able to bring in large amounts of cocaine into Baltimore and get rid of it quickly".
"You ask anybody on the street if they knew who Ricky was –or 'Pretty Ricky,' as he was known on the street — and everybody knew him," said Drug Enforcement Administration (DEA)'s Special Agent Todd Edwards.
Pretty Ricky flooded the streets of B-More and Woodbridge, VA, from September 2012 until October 2014, when he and eight others in his organisation were arrested.
However, he got on law enforcement's radar in October 2009, when he and Tyrone Allen were stopped in Phoenix, en route to Cali. The cops seized $97,020 and three cellphones from the boss and $70,680 and eight cellphones from Allen.
Read also: Samini shows class at VGMA Experience Concert
According to DEA reports, Pretty Ricky orchestrated the transportation of cocaine and cash between Houston and Baltimore in secret compartments of vehicles. Sometimes, the vehicles were transported on car carriers.
The money and product would be brought to a business complex called RCH Plaza on West Franklin Street in Baltimore for stashing, as well as with the homes of the defendants and their family members.
In September 2012, Brooke Lunn and a man named John Moore got arrested near Houston with 30 keys stashed in the whip they were in.
Tracy Muse, believed to be Pretty Ricky's girl, posted their bond and they returned to Maryland. A little less than a month later, Moore was shot in the head in Baltimore.
In July 2013, a vehicle transported on a Houston car carrier by Pretty Ricky's outfit was searched by the Arkansas Highway Patrol. It was on its way back to Baltimore from Houston. The boys found 23.8 kilos stashed inside.
Afterwards, in August of that year, Pretty Ricky went back to using Lunn to make runs, who is believed to have made 30 trips between the cities. According to the DEA, the crew pumped 750 keys of cocaine from then until October 2014, according to the DEA.
In June 2014, the feds peeped Thomas Simmons hand Pretty Ricky a black bag in a Woodbridge parking lot. The Virginia State Police pulled Simmons over 60 miles from that spot, and found two kilos inside another black bag, which was in a stash box.
Back in October 2014, when search warrants were executed, 27 kilos of coke were seized along with hundreds of thousands of dollars in cash, guns and $2 million in jewelry, including a 16 carat diamond ring.
Pretty Ricky's businesses–Baltimore clothing store World Fed Apparel, Inc. and a Fells Point Rita's Water Ice–were also shuttered, as money laundering ventures.
Pretty Ricky also lost a fleet of luxury vehicles, including a boat along with a 2013 Rolls Royce Ghost valued at $296,000, 2014 Ferrari 458 Italia valued at $271,000, 2014 BMW M6 valued at $113,925, 2015 Ford F-250 truck valued at $56,000, a 2012 Acura ZDX, a 2010 Honda Crosstour, a 2006 Acura and a 2009 GMC Denali truck.
Jenifer pleaded guilty, then, to cocaine distribution conspiracy charges.
Latest posts by Classic Ghana
(see all)