Today's column is a response to popular requests from two categories of Daily Graphic readers.
There are those readers who refuse to believe that it ever happened or it was even possible, and there are the many who have demanded this photo evidence of Ghana's first car, to prove a point they have always made: that the African is capable.
The vehicle in the picture may not be the most sophisticated; in fact, it was not made today.
This is the car Ghana made.
It was named Boafo and it had a twin whose name was Adom.
Both were born under the leadership of one of Ghana's Heads of State who had no university education.
Of course, it was conceived more than 50 years ago.
In Ghana's First Republic, a period that saw a flowering of the African genius, President Kwame Nkrumah called to his office, heads of the country's vehicle importing multi-nationals and gave them a sense of his vision.
In his mind's eye, he could see made-in-Ghana vehicles.
The idea was for the future.
For a start, however, he asked them: How about bringing in the parts to be assembled here?
Forward-looking companies such as UAC (now Unilever) and R.T Briscoe took him up on it, set up vehicle assembly plants, and employed graduates from the Engineering Department of the then University of Science and Technology.
One of those graduates was Paul Victor Obeng (P.V), who later became "Prime Minister" in the Provisional National Defence Council (PNDC) era.
The idea was to use these assembly plants as Research and Development (R&D) units to transfer technology — as China was to do much later, in the 1980s.
Many of the vehicles were rolled out of the assembly plant and used, primarily to cart goods, such as lumber from the then popular Accra Timber Market and fish from the Tema Fishing Harbour.
The 1966 coup truncated that process, but the seed kept germinating.
It bore fruit under the presidency of General Kutu Acheampong.
This Head of State, a soldier, had only a commercial school certificate and a military academy training.
The P.V. Obengs of yesterday are the Ave Kludzes and Ashitey Trebbi Ollenus of today, two Ghanaian rocket scientists whose brains fly America to space.
The African genius of the sixties was no fluke. Ghana went on to manufacture yachts at the Elmina Boatyard.
My information is that in addition to manufacturing deep-sea fishing vessels, Ghana was exporting boats!
That is a contrast to the present era when we need foreign exchange to import boats to replace the likes of 'MV Dodi Princess' on which Ghanaian tourists can cruise to the Dwarf Island or for Volta Lake transportation.
For those unborn in the 1960s, I will repeat what I wrote three weeks ago.
Ghana was manufacturing glass and bottles at Aboso in the Western Region; corned beef in the Northern Region; shoes and boots for the security agencies; matches at Kade.
Look, my friend, 56 years ago Ghana set up the Atomic Energy Commission at Kwabenya to be responsible for all matters relating to peaceful uses of atomic energy, and the National Nuclear Research Institute.
So why don't we do so today? The answer is simple: we don't believe in ourselves any more.
We do not lack scientists, but we lack leaders that can put science and scientists to use.
That is why we are starving our scientists and researchers of funds.
Don't tell me we could not manage those factories. Too eager to prove (and confirm to the West – USA and UK) that Kwame Nkrumah was wrong, we took Science, Technology and Innovation not only from the front burner but out of the kitchen altogether.
Today, Ghanaians gaze, wide-eyed, at the "miracle" of South Korea, Singapore and China. Just imagine that 40 years ago, our Boafo and Adom were a "miracle" to the Chinese from whom we import the tricycles that have become a wonder to us today.
Source: graphic.com.gh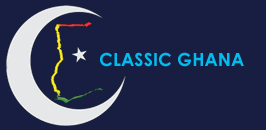 Latest posts by Classic Ghana
(see all)