Serge Attukwei Clottey is the founder of Ghana's GoLokal performance collective. His work explores the cross-cutting themes of environmental protection and social justice. His concept of "Afrogallonism" is a celebration of the yellow gallon containers, initially used as cooking oil canisters and then recycled to collect water or fuel.
Found throughout Ghana and known locally as jerrycans, the plastic containers have become synonymous with serious water shortages in Accra, and block waterways when they are discarded. Their prevalence in rural and urban communities caught Attukwei Clottey's attention. He began imagining them as objects of art, and then came up with the concept of creating plastic carpets from them.
Garrette Clark, UN Environment's Sustainable Lifestyles Programme Officer in the Consumption and Production Unit, said: "Sustainability is here to stay. We hear about climate change, waste and pollution every day. And, we increasingly hear how people are living in new ways that are good for people and planet. Serge Attukei Clottey is one of these new voices highlighting our plastic waste issue through his art."
Attukwei Clottey's idea is to tackle plastic pollution, and create a growing artistic movement to raise awareness and #SolveDifferent. We asked him what inspired him to come up with his Afrogallonism concept, and his message for young people.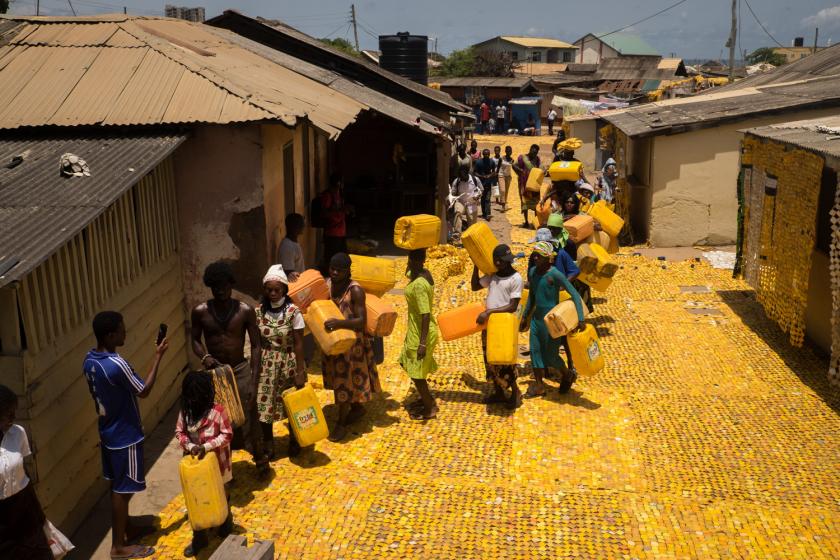 What is Afrogallonism, and how did you come up with the concept?
I want to find ways to inspire people to work with plastics, and recycling it in creative ways. Afrogallonism is a word I made up after working with discarded jerrycans for fifteen years, as this type of plastic takes a long time to decay. Over time, the gallon containers have become like my second skin, and I realized that the top of the container looks like a mask. We have traditional masks, but these are like masks of our time. Afrogallonism is the new Africa—the future of Africa, bringing to the forefront issues of water scarcity and the importance of protecting our environment.
What challenges did you face along the way, and how did you overcome them?
I wanted to think of a practical approach to the critical issue of plastic waste management that brings value to the country. It's not just about collecting plastics, but sending a powerful message back to manufacturers: waste is becoming a problem every single day. As an artist, I want to explore and create a dialogue around the plastic issue, involving corporate or government officials who can support our work so that the benefits remain in Ghana. I face many challenges—including lack of space and even lack of African representation on a global stage. Some galleries are not interested in displaying African Art. My art is now getting international recognition because black people across the world can relate to the narratives I explore. One of the biggest challenges has been getting my community to understand the importance of my work, but this is changing in Ghana.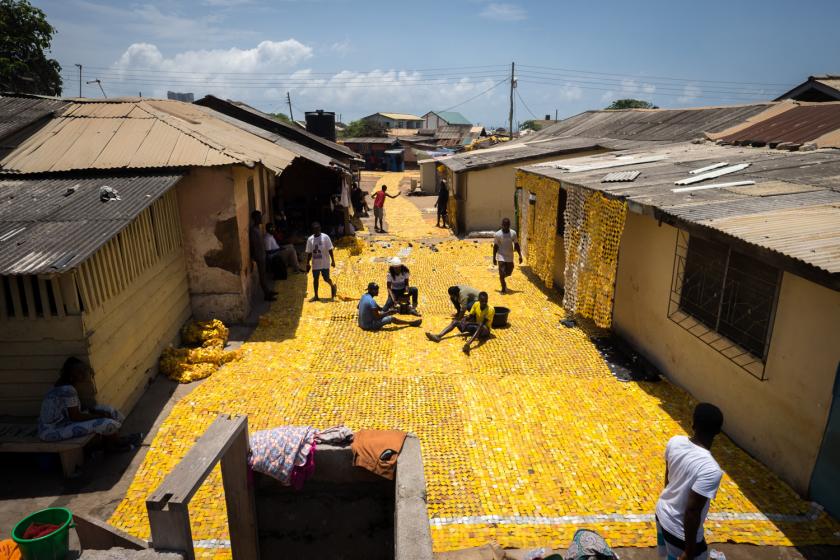 Can you give us some background on the scope of your work?
I currently have about 15 young men and women working directly with me, and dozens of others who collect plastic waste materials for the project, and they are paid adequately for the work done. I can't tell if this project is going to be the solution to plastic waste—but at least we are taking that step to act. We collect the plastic containers along coastal beaches, as well as at dump sites. You see them ending up on the streets and in the ocean. For me, the materials play a very significant role in my work and I take care in repurposing the plastic.
What are alternatives to the use of jerrycans that could help us #SolveDifferent?
Let's focus on the product, and raise awareness among companies making plastic cartons and containers. We need to know where these plastics are coming from and for me, taking the issue up with companies producing plastic products is key. Manufacturers must have a bigger interest in where their products end up.
What advice would you give to others—especially young people—on following your dream?
Don't be afraid to claim space. A strength of mine is to claim space with the carpets we make—almost to 'hijack' public spaces. Most people are afraid to perform or showcase their work. We negotiate our spaces and make our performances an audience-inclusive experience. I tell young artists to work on narratives that best fit their work, and be bold in engaging politics to explore in their work. They shouldn't work because they want to get into the art market and become famous. For me it's always about translating the stories of my community, Ghana and Africa in my art. My vision is to explore trade relationships for example with the West, and trade back products of value. Africa has come to realize how trade has benefited the West, and as an artist, I want to find a strategic way to trade back to the West with materials that benefit Africa.
Source: unenvironment.org
Latest posts by Classic Ghana
(see all)